'The Bachelor' Front-Runner Is A Deaf Woman - And The Chemistry Is FIRE
by Christina Marfice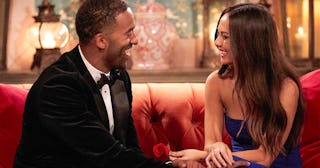 Craig Sjodin/ABC
Abigail Heringer got Matt's first-impression rose after a swoon-worthy first talk on The Bachelor
After the coronavirus pandemic derailed its filming and air schedule, The Bachelor finally premiered last night for a historic season — Matt James, a 29-year-old real estate agent from New York and beloved best friend of Tyler Cameron, has begun his tenure as the franchise's first ever Black bachelor. But after getting hammered by fans and past stars of the show for its consistent lack of diversity, the entire casting staff of the show seems to have stepped up, gifting us with a season filled with diverse women who look like an actual slice of the real world.
And the first Deaf woman ever to appear on the show seems to have caught Matt's eye already.
Abigail Heringer, a 25-year-old client financial manager from Oregon, had a very sweet introduction to the Bachelor when she first exited her limo. One of the first things she told him is that she was born deaf and would spend much of the night reading lips, and in a heartwarming moment, Matt promised to be careful to enunciate clearly for her.
But it was when she turned to walk up the stairs and into the Nemacolin Resort that fans noticed how smitten the lead apparently already was. Matt turned to watch Abigail walk away, and as he did so, his face lit up with a goofy grin and a look like he had completely forgotten he was surrounded by cameras filming a reality show. It was such a real moment, which is not something you see too often in the Bachelor franchise these days.
Later in the episode, Matt and Abigail had their first one-on-one conversation, where she opened up more about being born deaf and having a cochlear implant. Matt was clearly still smitten, and part-way through the conversation, leaned in to give her the first (real) kiss of the night (no, we are not counting that awkward "Lady and the Tramp" moment). He then excused himself, and returned a few minutes later with the First Impression Rose.
"I felt like you were everything that I've been asking of these women tonight," he said while giving her the rose. "And knowing you're a fighter, I felt it was appropriate."
For those unfamiliar with The Bachelor, receiving the First Impression Rose is usually a pretty good indicator that a contestant will be sticking around for a while. All the way to the finale? In this case, we sure hope so.
This article was originally published on