New York City Will Pay Abortion Fees For Women From Other States
by Madison Vanderberg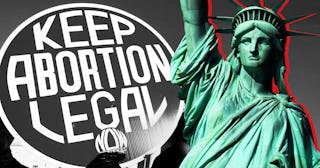 Julia Meslener for Scary Mommy, Serena Repice Lentini/Unspash and Alex Wong/Getty
New York City is the first city in the country to directly fund abortions
2019 has been a terrifying year for women's rights, specifically the right to have a safe abortion. So far nine states have passed bills to either limit or completely ban, abortions this year. In response to this national health crisis, New York City has decided to pay for uninsured women's abortions, including individuals who travel to New York specifically to have an abortion.
"We heard the news on the abortion bans across the country," City Councilwoman Carlina Rivera told The New York Times. "Many of us in New York felt helpless. We wanted to do more."
The city has allocated $250,000 to non-profit New York Abortion Access Fund (NYAAF) exclusively to pay for abortion procedures, which city officials say will allow about 500 women to terminate their pregnancies. NYAAF covered nearly 600 women's abortions in 2018, though this is the first year that the organization will receive funds from the city's budget, and this is the first time any city has provided public funds specifically for abortion care.
"New York will become the first city in the country to directly fund abortion by allocating $250,000 of the City's 2020 budget to NYAAF," the organization said in a statement.
According to the Times, the Fund will essentially pay abortion clinics on behalf of women who cannot pay and are not covered by insurance or Medicaid. Plus, they've set aside about a third of the fund specifically to help women who can't access abortions in their home state and travel to New York to do so.
If you need assistance paying for your own abortion, call NYAAF and they'll have someone respond to you within 24 hours. After assessing your situation, the organization will pay any bills directly to the abortion clinic. They don't pay for transportation, but they can refer you to organizations that will.
Many think the modest $250,000 set aside for abortion fees is also meant to stand as a symbolic gesture against the conservative legislature and abortion bans currently plaguing the country.
"There haven't been that many city and state public officials to say we should publicly fund abortions. It's a big statement," Aziza Ahmed, a law professor at Northeastern University told The Times. "This is a culture war to some degree."
Many individuals on Twitter are praising the city for this progressive, and necessary, social service.
This effort has been compared to Planned Parenthood — which does receive public funds — Planned Parenthood is a series of health centers that offer abortions, among other health services. Patients at Planned Parenthood pay for services via a sliding scale or through their insurance.
This new effort would focus exclusively on abortions, covering the tab for individuals in New York City who need them.