Abortion In America: Here's What Could Happen, And It Looks Dire
by Elizabeth Broadbent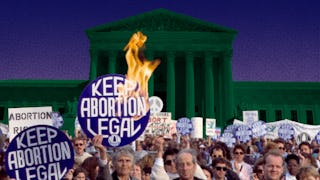 Pablo Andr_s Carvajal / Eyeem / Dave Newman / Viviane Moos
You thought it was only Texas where abortion in America was threatened?
You have no idea.
You have no idea at all.
On December 1st, Julie Rikelman, lawyer for the Center for Reproductive Rights, will argue in front of the Supreme Court as it hears Dobbs v. Jackson Women's Health Organization. It's the first time the Court has agreed to hear a law challenging Roe v. Wade's ruling that every woman has the right to an abortion before a fetus's viability — about 24 weeks. Says the Center for Reproductive Rights, "This is the first time the Court will rule on the constitutionality of a pre-viability abortion ban since Roe." This is the moment for abortion in America. And you should be scared.
Here's what happened.
Abortion In America Under Attack
The Center for Reproductive Rights, the law firm Paul, Weiss, Rifkind, Wharton & Garrison LLP, Mississippi civil rights attorney Robert B. McDuff, and the Mississippi Center for Justice sued the state of Mississippi on behalf of the sole remaining abortion clinic in the state, Jackson Women's Health Organization. They argued that several laws neolithic enough to make your head explode violated a woman's constitutional right to access safe abortion care, and included an emergency challenge to ban the state's ban on abortion after 15 weeks, then a challenge to a state law banning abortion after six weeks, because Texas.
The lawsuit sued against undue burdens placed on abortion clinics: they were subjected to a "restrictive licensing system" that passed even other high-risk medical clinics in the state and had caused closure of every abortion clinic but one. Women were forced to make an appointment, hear "state-mandated information" and return for their abortion 24 hours later: not only forcing a waiting period, but also a two-trip requirement impossible for many women living in one of the poorest states in America. Only doctors could perform abortions — for example, nurse practitioners couldn't hand out the very safe abortion pill — and no one could give consultations by telemedicine. Show up at the clinic or don't get your abortion, no questions.
The Center for Reproductive Rights and Co. breathed a sigh of relief: on November 20, 2019, the district court struck down the 15-week ban. They said it imposed "an unconstitutional undue burden on the right to abortion, concluding 'that the Mississippi Legislature's professed interest in "women's health" is pure gaslighting' and that 'respecting [women's] autonomy demands that this statute be enjoined.'"
Abortion in America had been saved.
Except not, because the state of Mississippi immediately filed a challenge. Many court things happened that confuse most Americans, so here's what you need to know: eventually, the cis het white men who run Mississippi weaseled that case up to the United States Supreme Court, which agreed to hear it since the odious Amy Coney Barrett replaced Ruth Bader Ginsberg (mourn ya til I join ya). Including alleged sexual predator Brett Kavanaugh, the Court's now stacked 6-3 with a conservative majority.
That conservative majority is set to hear the biggest challenge ever brought to bear against Roe v. Wade. Abortion in America is under serious attack. This case will decide if anyone has the constitutional right to a pre-viability abortion.
Arguments are set to begin December 1.
What Happens If The Neanderthals Win
Well, if that conservative majority, many of whom have been vocally anti-abortion, decide to rule that Mississippi's law can stand: i.e., that women are not guaranteed a constitutional right to abortion before their fetus's viability, all hell breaks loose.
Viability has always been a crap standard on which to base abortion law. Even Sandra Day O'Connor, who was the swing vote upholding Roe v. Wade later, said as much: scientists couldn't tell when a fetus was viable, and the law couldn't tell when a fetus was viable, and lawmakers couldn't tell when technology made it possible for a fetus to be viable earlier (while the Supreme Court's general standard for viability is 22-24 weeks, a child has survived at 21 weeks, 2 days, four months before his due date).
Anti-abortion groups had pushed for the 15-week standard because they said that after that, a fetus could feel pain (most research shows a fetus experiences pain at 29-30 weeks). But it throws viability into question. If the court tosses viability out the window, all bets are off.
Here's what could happen to abortion in America.
Eight states still have pre-Roe bans on abortion. They'd come back into effect. Arkansas' ban does not include a provision to protect the life of the patient. Only Mississippi's includes a provision for rape. Other states include Alabama (includes provision for the patient's health), Arizona, Michigan, Oklahoma, West Virginia, and Wisconsin.
Eleven states have so-called "trigger" laws that would go into effect if Roe were overturned. These states would ban or severely restrict abortion: Arkansas, Idaho, Kentucky, Louisiana, Mississippi, Missouri, North Dakota, Oklahoma, South Dakota, Tennessee, Texas, and Utah.
Seven states have laws with "unconstitutional, post-Roe restrictions that could take effect if Roe [were] overturned." These are all temporarily enjoined by the court and not in effect, but they include Alabama, Arkansas, Georgia, Kentucky, Mississippi, Missouri, South Carolina, and Tennessee. Without Roe, they could be challenged… and more of those heartbeat bills could become reality.
Alabama, Kentucky, Tennessee, and West Virginia have explicitly said that their constitution does not protect the right to an abortion.
Fifteen states and D.C. have passed laws protecting abortion rights, but it's cold comfort when all those heartbeat bills (there are eight of them) would suddenly take effect, or take effect as soon as a state legislature could pass them. We'd be back to the days of Gerri Santoro.
Know her name. Gerri Santoro was married at age 18 to a man she'd known for only a few weeks. He hit her. Nothing was done about the domestic violence she suffered. She fled back to her parents and met another man, Dixon. Divorce laws forced them to keep their relationship a secret. When she became pregnant, they attempted an abortion with secondhand surgical instruments and a textbook in a lonely hotel room.
When she began to hemorrhage, he fled. She bled out and died alone.
As Leslie Reagan, author of "When Abortion Was a Crime" says, "Doctors and police [would] interrogate women in hospitals who come in from emergencies, interrogate them about who did the abortion, who was the source of the pregnancy and threaten them and ask them questions on their deathbed."
That's how many women are estimated to have been killed or injured by illegal abortion in America pre-Roe — per year.
Read that again: 350,000 women a year. Those are lives at stake. Those are whole futures. Those are women and girls who have everything to lose if this court rules in favor of anti-abortion activists.
But if they take our right in court, we will fight them in our legislatures. We will fight them at the grassroots. We will not stop. Every woman in America deserves the right to a safe, legal abortion.
Let's pray that right's upheld.
This article was originally published on