Trump's Abortion 'Gag Rule' Has Gone Into Effect -- Here's What That Means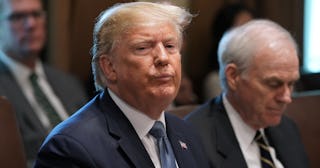 Chip Somodevilla/Getty Images
Federally funded health care clinics are no longer required to discuss abortion, and family planning funds are at stake in new ruling
The Trump administration proposed an abortion "gag rule" in 2018, and on Monday, July 15, 2019, those new abortion restrictions have gone into place. Effective immediately, federally funded health care clinics are no longer required to discuss abortion with pregnant clients, said clinics can't share finances with abortion providers, and by 2020, those clinics will have to physically separate themselves from clinics that provide abortion services.
Here's why this is bad.
Per the Associated Press, if a pregnant woman goes to a federally funded health care provider (like Planned Parenthood or any other family planning clinic) to learn about her options, that clinic is not required to mention abortion or provide a referral to an abortion center. This new "gag rule" is essentially making it harder to obtain an abortion seeing as most people learn about abortion options at said family planning clinics. The only bright side is that although clinics are not required to discuss abortion options, they are not prohibited from doing soon. So presumably, an institution like Planned Parenthood will continue to refer women for abortion care services.
However — and this is a big however — the second portion of this ruling might disrupt Planned Parenthood as we know it. Title X programs currently provide about $260 million in annual funding for family-planning clinics, which helps about 4 million women annually. Planned Parenthood serves about 40% of individuals who take advantage of Title X programs. To be clear, Title X programs have never funded abortions. So a woman may use Title X funds to obtain a free or affordable pregnancy test, but she would pay for an abortion separately with her own funds, even though she received both services at the same clinic.
With the new ruling, family planning clinics must maintain separate finances from facilities that provide abortions. And then next year, family planning clinics can't even share the same roof as facilities that provide abortions. This is very bad because most Planned Parenthood clinics offer both family planning and abortion services, meaning Planned Parenthood's Title X funding is at stake unless they discontinue abortion services.
The Kaiser Family Foundation recently shared a study on the number of family planning clinics that receive Title X funds and also provide abortions. In Vermont, for example, every Title X clinic also provides abortions.
"The Trump admin's devastating, illegal, & unethical Title X gag rule puts birth control and other essential care at risk for millions, but you can count on us to NEVER stop fighting for all those across the country in need of health care." Planned Parenthood wrote on Twitter.
For more information on how to protect your reproductive rights, including what to say when calling your Senator, head to I Stand With Planned Parenthood.