Here's How The Satanic Temple Is Fighting To Save Abortion Rights In Texas
by Elaine Roth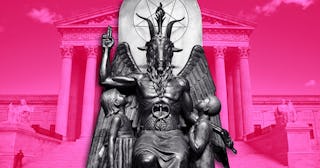 Julia Meslener for Scary Mommy and JOSEPH PREZIOSO/ Robert Alexander/Getty
Earlier this month, Texas passed the most restrictive abortion law in the nation. A day later, the Supreme Court refused to block the measure, effectively letting it become law. Effectively overturning Roe v. Wade, the landmark 1973 Supreme Court decision that protected the right to an abortion, in Texas.
The law called Senate Bill 8, or SB-8, bans most abortions after about six weeks of pregnancy, when most women don't even know they're pregnant. The law fails to provide an exception for incest and rape and allows only a very narrow exception for health complications. If all of that wasn't troubling enough, the law also deputizes private citizens. It empowers — and incentivizes — private citizens, to sue anyone who helps a person seeking an abortion. Complete strangers with no connection to the person seeking an abortion can now sue for a minimum of $10,000, plus legal fees.
The law is simply horrifying. It's a devastating blow to reproductive rights and a concerning show of strength from the Christian conservative moment.
The Biden Administration, Activists, And Private Companies Responded to the Draconian Law
The Justice Department sued Texas. Uber and Lyft vowed to pay the legal fees of any driver sued under the new law. Bumble and Match promised to set up funds to help their Texas-based employees access abortion care out of state. Those companies are taking a stand, and that's important. But, aside from the Justice Department, the response from private companies is, well, muted. Don't get me wrong, it's great that they're speaking up, but their responses lack any bite. There's an element of acceptance, a sense of surrender to this is the way it has to be.
Enter: The Satanic Temple.
If your mind instantly conjured images of devils and demons and fiery pits — well, it conjured the wrong thing. The Satanic Temple (TST, for short) does not believe in Satan or the supernatural.
The stated mission of the TST is "to encourage benevolence and empathy, reject tyrannical authority, advocate practical common sense, oppose injustice, and undertake noble pursuits." TST supports and fights to advance "secularism and individual liberties" and values "rational inquiry removed from supernaturalism and archaic tradition-based superstitions." Its goal is to defend against religious overreach and hypocrisy.
The Satanic Temple, Abortion, And The Religious Freedom Restoration Act
After SB-8 became law, TST filed a letter with the U.S. Food and Drug Administration objecting to SB-8 on the grounds of religious freedom and cited the Religious Freedom Restoration Act (RFRA). The TST seeks to ensure that its members have access to abortion pills within the first 24 weeks of pregnancy as part of its Satanic Abortion Ritual, similar to the way RFRA grants Native American access to a hallucinogenic drug for their religious rituals.
In an interview with Boston.com, Lucien Greaves, TST's co-founder and spokesperson said, "We don't agree that life begins at conception." He continued, "We don't agree that the non-viable fetus is a unique and distinct individual with human rights. We believe it's tissue belonging to the pregnant person and it's their choice whether they bring it to term or not. It's nobody else's choice. This is a matter of religion for us."
The argument should resonate with Texas Governor Abbott, who made it clear how important religion is to him. In fact, he highlighted religion's role while signing SB-8. He said, "Our creator endowed us with the right to life, and yet millions of children lose their right to life every year because of abortion." The same goes for Texas Attorney General Ken Paxton, who Greaves noted "will be proud to see that Texas's robust Religious Liberty laws, which he so vociferously champions, will prevent future Abortion Rituals from being interrupted by superfluous government restrictions meant only to shame and harass those seeking an abortion."
(The poetic justice within those words is worth pausing and noting.)
This Isn't The First Time TST Has Fought For Religious Freedom
The Temple's most recent campaign to protect reproductive rights won't surprise folks familiar with TST. In 2018, TST erected a half-man, half-goat statue in response to a Ten Commandments statue erected at the Arkansas state Capitol. Then, the founder of the Arkansas branch noted that if one religion could erect a statue, then either all religions should be able to erect a statue or none. Thanks to COVID, the case is still pending.
TST is guided by seven tenets, which include acting with empathy, justice above all, bodily autonomy, freedom in all its iterations, belief in science, an understanding that people aren't perfect and should do their best to do better, and — most importantly — that the tenets are just that: tenets, words meant to guide. Justice, compassion, and wisdom should prevail above all else.
Taken together, it's the most rational and inspiring dogma I've heard from a religion in a while…maybe in forever.
It remains to be seen whether the Temple's efforts will prevail in Texas. The FDA has 60 days to respond before the Temple will file a formal lawsuit.
In the meantime, did anyone have "Satanic Temple fights for reproductive rights" on their pandemic Bingo card? (Maybe sandwiched between murder hornets and Tiger King?) Because if so, you win.
This article was originally published on