Here's Some Sweary Wrapping Paper For All Your Friends Who DGAF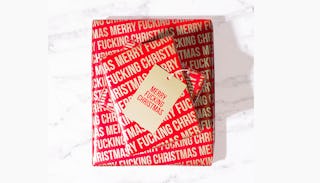 Image via Firebox
It says everything you're thinking about the holiday season
We've barely finished Halloween (still eating my kids' candy, only God can judge me) and it's already time for the Christmas creep that's moved the start of the holiday season a little earlier every year. For those of us not remotely prepared to start buying All The Things, there's a jolly wrapping paper that about sums up our feelings on the holiday season.
And it's very fucking merry.
Quirky gift site Firebox brings us this amazing Abusive Christmas Gift Wrap that brings a heavy dose of IDGAF to all your holiday offerings.
That's right. You can now buy wrapping paper covered in the phrase, "Merry Fucking Christmas." For when you care enough to show just how irritated you are with the holiday season — and life in general.
The description for the paper says it will help your gifts stand out. Because hello, how couldn't it? It's billed as "Crass and abusive, yet chirpy and festive."
Pretty sure that's how 94% of people I know would describe me. *Puts it in my cart.*
The perfectly reasonable price of $11.79 nabs you four sheets of wrapping paper and four gift tags, all in a "Christmassy red and gold finish so they know you care, sort of."
They write, "Christmas day can get a liiiittle bit competitive. So why not show your family how much you care about the tradition of exchanging gifts, by covering your presents in Abusive Christmas Gift Wrap?"
It's not even the competition factor I'm thinking of when fantasizing about using this stuff to wrap gifts for my loved ones — it's the damn burnout the holiday season now brings for most of us. After weeks and weeks of hurrying to "door buster" sales and gathering up every item on your child's ever-changing Christmas list, after all the parties, baking, teacher presents, gained weight from too many Christmas cookies, and Santa breakfasts, you've just fucking had it.
And this wrapping paper feels you so hard.
I can easily picture myself at 11:00 pm on December 23rd, guzzling wine and angrily wrapping gifts with this stuff. Because at that point, "Merry Fucking Christmas" is about as close to festive and genuinely "me" I can get. It will convey my true feelings, and who wants anything from their loved ones but complete realness?
Well. My 87-year-old grandmother. Maybe I should keep up the ruse that I never say the fuck word for her. Or not. We'll see what midnight on December 23rd looks like.
And as the site points out, you really shouldn't stress much about wrapping paper anyway. "It's going to be torn to shreds and shoved in a bin bag before lunch time so who even gives a shit? Merry Fucking Christmas."