Thinking Of Sending Your Kids To An Academic Summer Camp? Buy A Lottery Ticket First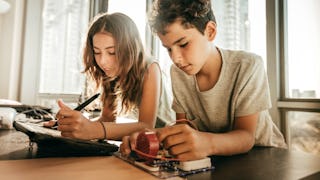 Weekend Images Inc. / iStock
Early last spring, I began seeking out academic summer camps for my high-schooler. If you're not yet in the hell that is high school overachievement and college-application padding, let me be the first to warn you: It's survival of the fittest out there.
And by fittest, I mean who can survive being the most overscheduled, over-managed, most stressed-out, and overloaded with AP classes, honors classes, honor societies, clubs, jobs, volunteerism, and then come out the other side a happy, well-adjusted non-anxious young adult. And this is all BEFORE they even begin college.
And just when your teenager collapses in early June after surviving another school year, it's time to pad the resume a little more with "academic summer camps." What, you didn't know that was a thing? Oh, it is very much is a thing. A big thing. It's now not enough to simply go to school 10 months out of the year, then flip burgers in the summer. Today's teenagers need to be spending their summer engaged in additional academic study, overseas mission and charity work, and some type of youth-mentoring community service. Oh, and also a part-time job.
But wait, it gets worse. Even if your student is able to handle the academic rigor of a summer-intensive educational program, there's a good chance your bank account can't. I realized this while searching out summer programs for my son — and quickly went into financial shock.
A four-day nonresidential STEM program at my local state university was over $1,700. A two-week residential program in the same subject area (STEM) at another university was over $3,500.
Sticker shock for education rarely happens to me, as my children are in private school and I'm accustomed to shelling out big bucks for tuition. But a four-day health science camp for $1,700? Is the surgeon general lecturing? After more searching across other subject disciplines and community college and university offerings for these kinds of camps, I can attest that those camp prices are all in the normal range of what one can expect to pay for a summer-intensive academic experience.
And then there are the summer sports-training camps, or should I call them the "Our facilities rival the Olympic training center in Lake Placid and will require taking out a second mortgage" type of camps. But no worries, I'm sure your 8-year-old budding second baseman truly needs 80 hours of one-on-one instruction from a former major league baseball player at the bargain basement price of $1,000 a week.
But I'm not done yet.
Have a child who is a gifted actor and theatre lover? What about a talented musician? Drama camps which produce their own summer productions can run $500 per week.
I mean, who is able to pay for these camps?
Not only are those prices totally out of reach for lower-income families, but the average middle-class family most likely also cannot afford to send their high-achieving students to one of those summer experiences. And without the financial ability to boost their student's college resumes, both will unfortunately offer a less-competitive college application because of it.
What happened to dropping off your kid at the local parks and recreation center to swim, play cards, and do arts and crafts for $10 a day? And can't we find and offer less expensive alternative summer academic and extracurricular experiences for our most talented youth that won't bankrupt the family?
And what happened to your average state university accepting applicants based solely on their high school transcripts and not discriminating against students who spend their summer working a non-glamourous part-time job in lieu of a "summer experiences?"
Actually, that's the kind of college student I would want at my school. Sure, the one who has spent four weeks in a biomedical lab (and has paid dearly for that opportunity) has a bright future ahead of them, but the one who worked a physically demanding "uncool" minimum wage job and learned the value of hard work and showing up? That's the kid I want in my college classroom. Ironically enough, I bet if you offered well-to-do families the option of a summer experience where their kids learns the value of hard work, they would probably pay the fast food joint to hire their kid.