ACLU Issues 'Travel Alert' For Texas, Because This Is America 2017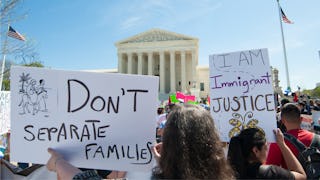 Image via Shutterstock
Civil rights organization warns of possible constitutional violations as a result of new Texas law
If your summer travel plans include a trip to the Lone Star State, you might want to reconsider. On May 9, the American Civil Liberties Union (ACLU) issued a travel alert warning U.S. citizens about traveling to Texas, saying to expect possible violations of constitutional rights when stopped by law enforcement.
The reason for the ACLU's warning: the new law SB4, which Texas Gov. Greg Abbott signed on May 7. Under the state's current law, police officers don't ask about immigration status until after an arrest is made because it typically isn't in their purview, but under the new law – which takes effect September 1 – officers will be required to inquire about immigration status anytime someone is detained or arrested, which includes even routine traffic stops. SB4 also outlaws "sanctuary cities" by imposing criminal and civil penalties for local government entities and law enforcement officers if they don't cooperate with immigration officials' detention requests.
This law is wrong on some many levels, but let's begin with the fact that it opens the door to racial profiling, deters victims from coming forward, and increases the likelihood of illegal arrests of both U.S. citizens and non-citizens based on the way they look or sound.
"We plan to fight this racist and wrongheaded law in the courts and in the streets. Until we defeat it, everyone traveling in or to Texas needs to be aware of what's in store for them," Terri Burke, executive director of the ACLU of Texas, said in a press release. "The Lone Star State will become a 'show me your papers' state, where every interaction with law enforcement can become a citizenship interrogation and potentially an illegal arrest."
The ACLU's travel alert applies to all travelers to Texas, including U.S. travelers from other states and U.S. citizens, and eighteen state ACLU affiliates have issued alerts for their residents traveling though Texas. Additionally, the alert applies to all encounters with any local, state, or federal law enforcement officers.
Note: this is not normal. None of this is normal.
Lest you think you're safe from this law because you're a U.S. citizen, think again. Between 2008 and 2012, the ACLU said Immigrations and Customs Enforcement erroneously held 834 U.S. citizens in local jails, including some citizens who spent days in jail because of the mistake.
"The ACLU's goal is to protect all Texans and all people traveling through Texas — regardless of their immigration status — from illegal harassment by law enforcement," said Lorella Praeli, ACLU director of immigration policy and campaigns. "Texas is a state with deep Mexican roots and home to immigrants from all walks of life. Many of us fit the racial profile that the police in Texas will use to enforce Trump's draconian deportation force."
This law is so bad that pretty much everyone is against it – civil rights groups, cops, businesses. According to CNN, Travis County Sheriff Sally Hernandez said it was "unfortunate that fear and misinformation" enabled the law to pass, and she feared the law would push victims of crime "into the shadows." Charley Wilkison, executive director of the Combined Law Enforcement Associations of Texas, told CNN the law removes officer discretion – one of the most important tools in policing – and requires that cops make immigration status a priority instead of assessing the situation to make sure everyone is safe. Even pro-business groups, like the Texas Association of Business, are against this biased piece of detritus.
"Everyone has constitutional rights in this country," Praeli said. "The state of Texas, and every law enforcement officer, must respect those rights. The ACLU stands ready to safeguard those freedoms against those who seek to diminish them."
You can donate to the ACLU here.