Doctors Want Postpartum Checkups To Happen A Lot Sooner Than 6 Weeks
by Cassandra Stone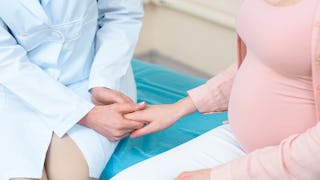 Image via Getty/ LightFieldStudios
The recommendations include access to more thorough, convenient care for postpartum moms
The first few weeks after having a baby — commonly known as the "fourth trimester" postpartum period — can look radically different for each woman. After the regular, attentive care many of us receive while pregnant, the weeks immediately after delivering a baby can leave us feeling ill-equipped for the physical and psychological changes we're flooded with during that time.
Which is why the American College of Obstetricians and Gynecologists (ACOG) has just issued new guidelines to offer women better postpartum care.
The primary shift surrounds the standard six-week postpartum checkup. The ACOG now says new moms should visit with their doctors no later than three weeks after giving birth. Because postpartum care should be an "ongoing process" as opposed to a single visit, the ACOG is also encouraging more frequent contact via additional office visits or phone calls, and even texts.
The phone calls and texts thing would be amazing. We all know how overwhelming it feels to leave the house with a newborn. After my own daughter was born and I was battling the "baby blues" pretty badly, I was so intimidated by the thought of leaving the house I put my own care wayyyy on the back-burner.
The ACOG also wishes to implement a "comprehensive assessment" for no later than 12 weeks postpartum to discuss each new mother's mental and emotional well-being, infant care, feeding, fatigue, physical recovery, chronic disease management, and overall health maintenance.
The National Institute of Health states the postpartum period consists of three physical phases which can last beyond six months altogether — far longer than the brief six week period post-birth. There are myriad reasons why new mothers should receive more consistent and thorough care after delivery. The mind-body connection feels like it's truly being acknowledged in these new recommendations.
"The changes are in response to the fact that maternal mortality is rising in the US, and women are more likely to die of pregnancy-related causes after the day of delivery than during pregnancy or birth," Alison Stuebe, M.D., MSc,and co-author of the ACOG opinion, tells Parents.com. "We also know that problems like postpartum depression and breastfeeding difficulties are more likely to get better if mothers get support in the first few weeks after birth, rather than muddling through until six weeks postpartum."
While it may feel like this big shift in women's healthcare is long overdue, here's hoping it'll help pave the way for an even more dramatic societal shift. If the medical community is recognizing the importance of caring about new moms, perhaps this change can lead to lengthier maternity leaves, actually giving fathers a paternity leave, and more mom-friendly work atmospheres.
Changing our culture to be more inclusive and receptive to postpartum mothers may seem like a long shot, but these new ACOG guidelines are a great first step.
This article was originally published on