Judge Rules That White House Must Restore Jim Acosta's Press Pass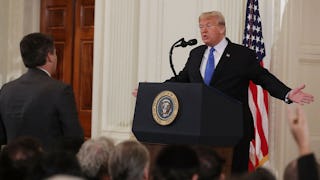 Image via Mark Wilson/Getty Images
Jim Acosta has access to the White House after a ruling in federal court
While it's still early in what could turn out to be a long legal battle between Jim Acosta and CNN, and the Trump White House, the press just won an early victory. Judge Timothy J. Kelly just granted CNN's request for a restraining order that would force the White House to reinstate Acosta's access, though temporarily pending further legal action.
Oh, and Judge Kelly was appointed to the federal bench by Trump himself last year. Cannot wait to see the Tweetstorm that comes from this.
This is just the first ruling in the lawsuit CNN and Acosta filed against Trump and a number of his staffers earlier this week. It all stemmed from a White House presser where Trump, unhappy with the questions Acosta was asking him, called the veteran reporter a "rude, terrible person." Later, when Acosta attempted to return to his reporting post at the White House, he found he had been unceremoniously banned from the grounds, and his press pass had been revoked.
Kelly's decision says that a reporter's First Amendment rights overrule the White House's desire to control its news conferences. Trump's administration tried to argue that the First Amendment doesn't automatically grant every reporter access to the White House, but Kelly decided once the White House opened its grounds to reporters, the First Amendment applied.
"If at some point after restoring the hard pass the government would like to move to vacate the restraining order on the grounds that it has fulfilled its due process obligations then it may, of course, do so and I will promptly address that and then the remaining basis of the (temporary restraining order)," Kelly said.
The other argument CNN's lawsuit made that Kelly agreed with is that Acosta was given no right to due process. His press pass was revoked without a clear reason. Kelly wrote that the decision to deny his access was "so shrouded in mystery that the government could not tell me…. who made the decision." The decision to make the ban did not follow any documented rules or procedures, and there was no way for Acosta to appeal the decision, which he says violates his Fifth Amendment rights, too.
Ted Boutros, an attorney for CNN said the station is "extremely pleased with the ruling today." He hailed the decision as a victory for both the First Amendment and journalism. "We're very excited to have Mr. Acosta be able to go back and get his hard pass and report the news about the White House," he said.
The White House could certainly keep fighting this battle. But if this first ruling is any indication, taking this matter to trial could be an uphill climb against the freedom of the press that actually makes America great, no matter what Trump says.