10 Memory Loss Support Activities For Dementia And Alzheimer's Patients
by Team Scary Mommy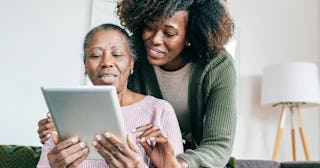 kate_sept2004/Getty Images
Whether or not you're their primary caregiver, seeing a loved one deal with memory issues can be incredibly difficult and, at times, frustrating. Conditions like dementia or Alzheimer's disease can cause memory loss, but it can also be part of the aging process and occur without a neurological disorder. Regardless of the cause(s) of their memory loss, it can be hard to know how to interact with the person — especially if their personality has shifted with their ability to retain information (compassion fatigue is real). One solution? Activities for dementia patients, Alzheimer's patients, and other older adults who need care.
Attempting to have a conversation with someone you've known your entire life yet who no longer recognizes you can also be heartbreaking. But turning to some stimulating activities in that scenario could help. This way, you're still able to interact and enjoy each other's company, with the bonus of providing them with additional support. Here are some examples of meaningful activities for people with dementia, Alzheimer's, or other memory loss conditions.
Stimulating Activities for Dementia Patients
1. Find a Modified Version of Something They Used to Do
A person with dementia or other memory loss conditions is likely unable to do everything they could before their diagnosis, but that doesn't mean giving up on all their former favorite activities. Instead, it might mean doing a slightly modified version of it, says Kristin Kingery — a social worker and the division director of Bayada Home Health Care. For example, if the person used to love to paint, you could give them the chance to do a simpler version of painting, like using limited colors or doing a paint-by-numbers picture. Even finger painting could be fun!
It's also important to remember that there's the possibility they will no longer want to do some of the things they used to love. They may have lost interest or don't even want to attempt it again, given their limited capabilities. Either way, be respectful of their preferences.
2. Stack Plastic Containers Like Blocks (for Adults)
It may seem like a good idea to give someone with dementia (or other forms of memory loss) blocks or some other children's toy. But that has the potential to be embarrassing for them if they realize that their task for the day isn't age-appropriate. In that case, you can substitute plastic containers for blocks, giving the older adult the chance to stack them, put one inside another, or simply hold them.
3. Give Them a Sense of Purpose
Everyone wants to know they have a purpose and feel they've accomplished something at the end of the day. That satisfaction can be a challenge for Alzheimer's and dementia patients but is definitely still possible. The key is to find activities for them that make them feel useful while also keeping them busy. One example of this is having them fold small towels or washcloths. Whether they live with you or in an assisted living facility, towels are almost always accessible. Folding will not only give them something to do but may make their day more meaningful if they think they have contributed to their household in some way.
4. Make a Sensory Pouch
There is no official way to make a sensory pouch. It's just important to make sure it stays sealed and supervise the person with dementia when they use the pouch (if necessary).
5. Listen to Music
Whether it is music from their youth, tunes they enjoyed as adults or simply soothing sounds, it's not unusual for people with dementia and Alzheimer's to have a strong response to music. Specifically, giving someone with memory loss the chance to reconnect with a sensory experience from their past can have a powerful effect.
6. Finish a Picture Puzzle
Turn a few of their favorite photos into puzzles they can put together. Not only will this personalize the activity, but it can help them recognize loved ones and reinforce memories (a key component of reminiscence therapy).
7. Do a Crossword Puzzle Together
Doing crossword puzzles are a great way to minimize stress, but they can also help patients build their confidence and exercise their brains. It's important to keep their minds active, and nothing works the brain out like a tricky crossword. They're even more fun when you can pick each other's brains for answers.
8. Watch Old Movies and TV Shows
Remember Columbo? Or how about Murder She Wrote with Jessica Fletcher? Well, you may not, but old shows like this may spark memories within your dementia patient. Or if they're a former movie buff, break out the Casablanca or even It's a Wonderful Life. But if musicals were their jam, put on The King and I or Guys and Dolls! Make a night out of it and ask questions during the film or show to keep them engaged.
9. Build a Memory Box
It's important for dementia patients to find ways to connect to their past. A box filled with mementos of their family, career, and old hobbies is a great start. It's like a trove of keepsakes. So, add newspaper clippings, letters, and whatever else they used to be fond of. If they spent their career as a chef, you could add a fork. A hairdresser? Drop a hair clip in the box.
10. Make A Collage
Make photocopies from some of the dementia patient's albums and include a few pictures of them too. Ask them what their favorite foods and activities are and include pictures of them. Also, paste a few stills from their favorite sitcoms or movies. This collage should reflect everything they like, people they've known, and who they are. It's also an excellent joint exercise to cut and paste pictures onto a piece of paper.
This article was originally published on