Actor Terry Crews Bravely Shares The Story Of His Sexual Assault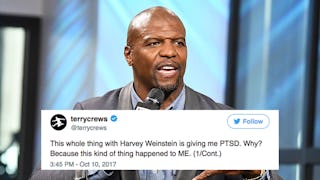 Image via Slaven Vlasic/Getty Images / Terry Crews / Twitter
Men can be victims of sexual assault, too, and Terry Crews is lending his voice to that fact
Following last week's New York Times exposé on decades and decades of alleged sexual harassment and assault by Hollywood mogul Harvey Weinstein, we've heard the harrowing stories of multiple women who claim to have suffered abuse in the industry. But women are not the only ones who can be sexually assaulted. Men can be victimized, too, and actor Terry Crews is sharing his story to shed light on that fact.
In a series of tweets, Crews told the story of having his genitals grabbed by a "high level Hollywood executive" who he does not name.
He describes the aftermath — getting angry, thinking about fighting the alleged abuser, then realizing, because of the power dynamic at play, how he himself will look if he turns the situation violent.
Crews' struggle here is familiar. Women are often also assaulted by men who carry more power than they do, which is one factor in why so many assault survivors stay silent. But Crews wasn't about to let his abuser get away completely. He tried to spread the word about what had happened, telling others in the industry about his experience.
Unlike so many victims, Crews was offered an apology for what he went through. But even though he admits he wanted more justice than just that apology, Crews explains why he let it go.
He points out that those who report sexual assault are often not believed, and then they carry a reputation for creating drama. In Hollywood, where (ironically) reputations really matter, reporting sexual assault could jeopardize an actor's career. Crews wanted to keep working, he explained, so he kept quiet.
Crews isn't revealing who his accused abuser is, but he's coming out with his story to support all the women — more of them nearly every day — who are standing up against Weinstein and other powerful men in Hollywood, saying they'll no longer stand for harassment and assault as the norm.
Crews' story sheds light on the important fact that anyone can be a victim of sexual assault. According to the Rape, Abuse and Incest National Network, one in every 10 victims of sexual assault is male. In the wake of the news about Weinstein, when we're listening to so many women's stories, it's important to recognize that anyone can be a victim. Crews' bravery in sharing his story will only help spread that message.