Actors Are Feuding Over Who Should Get To Play 'Tiger King' Joe Exotic
by Leah Groth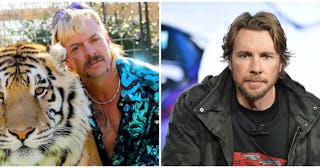 Netflix / Amy Sussman/Getty Images
Hollywood actors, including Edward Norton and Dax Shepard, are social media feuding over who should get to play "Tiger King" Joe Exotic
In the midst of the world's most devastating health pandemic, Americans have found a new entertainment obsession thanks to Netflix. Tiger King: Murder, Mayhem, and Madness, which is currently the number one program on the popular streaming service, was an overnight sensation as millions of (bored) quarantined, self-isolating, or social distancing humans across the country became obsessed with the true-crime docuseries following the bizarrely eccentric tiger trainer, breeder, and zookeeper Joe Exotic. Because Hollywood never skips a beat, there is already a live-action limited series in the works and SNL's Kate McKinnon will play blonde big cat enthusiast Carole Baskin, who may or may not have murdered her husband. However, as far as anyone knows, the lead role is still up for grabs, and actors are already fighting over who will get to play it.
Amongst those in the front line of battle are Edward Norton and Dax Shepard, who brought their feud to social media.
On Wednesday, Mr. Kristen Bell tweeted "If I don't get cast as Joe Exotic in the eventual biopic, Hollywood is broken."
Then, on Thursday, the Fight Club star replied, writing, "Um, step aside, pal. You're way too young and buff and you know it." He then suggested a more appropriate role for him — Joe Exotic's third husband.
"You could probably pull off Maldonado still, actually. Wouldn't that be fun?"
Dane Cook also chimed in, joking that he had "already been asked."
But then David Spade one-upped everyone. The comedian invited one of the stars of the show, Kelci "Saff" Saffery (Joe's employee who had her arm mauled off by a tiger), who confirmed her actor of choice for the much-desired role — David Spade.
Other fans of the show voiced their casting choices, which ranged from Nicholas Cage to Danny McBride.
https://twitter.com/jetpack/status/1242996880029736961
Details about the show are still sparse. However, it has been in the works for quite some time, as it is based on the Joe Exotic podcast Over My Dead Body — not the hit Netflix show.
If you haven't yet experienced the amazingness that is Tiger King, you are seriously missing out on some great coronavirus distraction. The show follows a gay, polyamorous, redneck-y zookeeper who is completely obsessed with his enemy, possible murderer Carole Baskin, whose husband mysteriously disappeared leaving her with millions of dollars and a big cat rescue. The whole world of big cat lovers is weirdly incestuous and cult-like, involving guns, mullets, aspiring country singers, murder plots, and lots of people in need of dental care.
As for who will be cast as Joe Exotic, may the best actor win.