Kids Are Being Hospitalized For A Serious Polio-Like Illness In Several States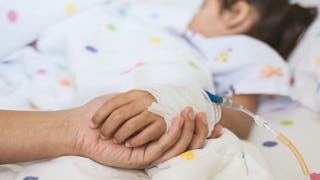 Image via Getty/Sasiistock
Acute flaccid myelitis is on the rise — here's what you need to know
Cases of acute flaccid myelitis, a very serious polio-like syndrome, are popping up in states all over the country — resulting in several children being hospitalized for the near-fatal condition.
According to the CDC, acute flaccid myelitis affects the nervous system — specifically the grey matter in the spinal cord. This results in a range of symptoms, most commonly weak or paralyzed muscles. In some cases, those affected have difficulty lifting their arms and nothing more, and in other cases, people may experience a severe weakening of the muscles that help with breathing. "In very rare cases, it is possible that the process in the body that triggers AFM may also trigger other serious neurologic complications that could lead to death," the CDC says.
So far, the CDC is reporting 38 confirmed cases in several states, including Colorado, Minnesota, Illinois, Washington, and Pennsylvania.
The question on every parent's mind right now: what's causing this? The CDC says there are several enteroviruses that could contribute to acute flaccid myelitis, primarily EV-D68 and EV-A71, which are both in the same family of viruses as the polio virus. Polio causes neurological complications, including near-complete paralysis but also limb weakness.
Other viruses, like adenovirus (the common cold and respiratory infections) as well as West Nile virus, could also be at play when it comes to acute flaccid myelitis — as well as meningitis.
Though a majority of people haven't heard of this illness, the rise in cases this fall is alarming. At least a dozen children in Minnesota have been diagnosed this year, when typically the state only sees about one case per year.
While the cause of acute flaccid myelitis isn't always detectable, the CDC remains steadfast in encouraging parents and children to keep up on hand-washing and staying home when sick. They also recommend making sure your children are up-to-date on their polio vaccination as well as all others. And as always, contact your child's doctor if you need more information.