TLC Star Reminds Us Dads Can Have Postpartum Depression Too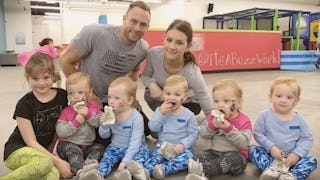 Image via Instagram
After discussing his struggle on his show, the star responded to a tweet
Anyone with six kids would be forgiven for being a little stressed. But Adam Busby, the star of TLC's hit show OutDaughtered, revealed that the challenges he's facing raising six daughters run much deeper. In a series of tweets, he revealed that he's suffering from postpartum depression.
And now he wants to make sure the world realizes that men are susceptible too.
Outdaughtered is the popular TLC show documenting the hectic lives of Adam Busby and his wife Danielle who, after she gave birth to quintuplets, are now raising six daughters. Adam has discussed his emotional struggles on the show, as well as the difficulty in transitioning back to work after the birth of his daughters.
But last week, the star responded to a fan on Twitter and made it clear that "struggles" aren't the right word for what he's going through, postpartum depression is.
Twitter user Roger Pittman took to Twitter to reference the things Adam has talked about on the show, and explicitly wondered about PPD in males.
It didn't take Adam long to reply. Ten minutes later, he responded with a couple of tweets in which he acknowledges his own PPD, throws out some stats to shine a light on the reality that men also experience it, and discusses the stigma around it.
In men, it's actually referred to as PPND, paternal postnatal depression, and Adam is right in that it affects one in ten fathers.
Postpartum depression is only now getting past its own stigma, with celebrities and everyday moms bravely speaking about their experiences, but men have a different set of hurdles thanks to stereotypes around masculinity.
Even in 2017, as enlightened as we are, men are often still shamed for their emotions, and expected to maintain the old-school stoicism that older generations took pride in.
But the intense lifestyle changes that come with adjusting to the arrival of a new child are a lot for anyone to bear, regardless of gender, and depression and mental illness don't care if you're Kim Kardashian or John Wayne.
Adam Busby deserves props, not just for being courageous enough to admit what he's going through, but for taking a stand against the harmful stereotypes that often prevent men from speaking out and getting help for serious illnesses, mental and otherwise. You can be sick and still be strong, you can be scared and still be brave, and you can be male and get postpartum depression.
People seem to understand, judging by the response to his tweets. Of course, it helps to have a supportive partner. Anyone who watches the show knows that Adam has that in his wife Danielle, and after her husband went public with his PPND, she backed him up with a tweet of her own.
This article was originally published on