Adam Lambert's Rendition Of 'Believe' Is So Beautiful It Made Cher Cry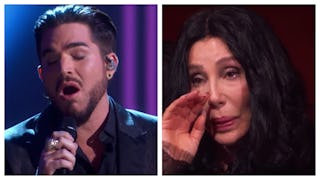 Image via YouTube
Adam Lambert nails his tribute to Cher in emotional performance
The 41st annual Kennedy Center Honors aired last night, and while all the performances honoring some of our favorite legends were amazing, there was one in particular that brought the house down.
The entire event was, of course, filled to the brim with artists like Lin-Manuel Miranda, Reba McIntire, Kelly Clarkson, and Kristin Chenowith. But it was Adam Lambert's performance in honor of Cher that's catching all the buzz today.
Grab a tissue and turn off everything making noise in your house right now so you can behold Adam Lambert and his amazing rendition of Cher's 'Believe.'
'Believe' is such an iconic anthem, and while it's usually upbeat and lively, hearing it this way is startlingly emotional. Cher is a 72-year-old legend who has probably heard every single one of her songs sung in every single way you could possibly imagine, and watching how moved she was by this particular performance is emotional in itself.
Lambert initially rose to fame in 2009 as a runner-up on American Idol. Since 2011, he's been the frontman for Queen, touring the world with Queen + Adam Lambert.
Cher took to Twitter to share her feelings about watching Lambert perform her song.
To which Lambert replied:
BRB, dying forever.
The Cher Show, a new Broadway musical depicting the early life and career of (duh) Cher, proves age ain't nothin' but a number when it comes to an actual queen.
After five decades of performing hits and stealing hearts all over the world, there's no one who deserves to be honored more than this lady right here.
This article was originally published on