Adam Levine's 3-Year-Old Is Totally Unimpressed With His Singing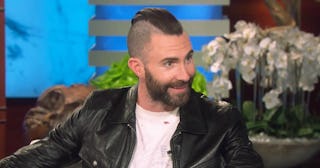 TheEllenShow/Youtube
Adam Levine only gets nervous about performing in front of one person — his daughter, Dusty Rose
After 17 seasons, Adam Levine is no longer on The Voice (cue tears), but he's enjoying lots of time at home with his family. The singer is a total family man and it's way too cute. He appeared on Ellen recently and talked about his slowed down life, which really, he says, is just a lot of hanging out at home with his kids. The kids also happen to be his harshest musical critics, however, so he told the host.
When Ellen asked Adam whether or not he sings and plays the guitar to his kids, he shared that yes, of course he tries, but it's not always to the warm, applauding audience he's grown used to in his career as a musician. In fact, 3-year-old Dusty Rose isn't too amped on her dad's singing and guitar playing at all. "Yeah, ya know, you'd think that she'd like when I sang to her. She doesn't like it that much," he revealed. The audience laughed, but it was clear Levine was telling the truth. He said he was really pulling out all the stops, so much that he felt like he was "auditioning" for the tot. He was thinking she was all about it, too, until she sweetly reached up, touched his guitar and whispered, "put that down."
Ha! Clearly, Dusty Rose does not impress easily. That's kids, though. You can't please them with a song even if you're a Grammy award-winning artist.
https://www.instagram.com/p/ByyJ_yCnPPi/
Other than his oldest child being his toughest critic, Levine isn't complaining about more time with his family, even though he says he really misses The Voice and loves everyone on the show. Well, except for Blake, obviously. Still, he seems to be soaking in the dad-life to the extreme. When Ellen pointed out what a hands-on dad he is he responded, "I'm obsessed with them! That's why I don't do much."
Levine really seemed utterly grateful to be at a point in his life where he can hang out at home and focus on family and music. He will have to work a whole lot harder though if he wants to impress his kids with his music, though. It's hilarious but it also speaks to the fact that kids don't really care about your celebrity status or even what a talented musician you are. They just want you to pay attention to them, love on them, and drop what you're doing to be with them.
Levine says that in addition to hanging with the kids, he's focused on writing new music. Unfortunately for him, it looks like he will have to keep his two passions separate. At least until those little ears get down with the beat.
This article was originally published on