Runway Of Dreams Foundation Aims To Make The Fashion Industry More Inclusive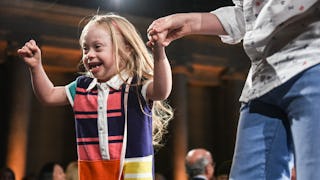 Leandro Justen
Have you ever googled "adaptive wear?" Well, odds are that, if you have, you've probably been uninspired by what you've found because most adaptive wear — or clothing made for those who are differently abled — is designed for functionality (and only functionality).
Make no mistake: Functionality is the most important aspect of adaptive wear. The closures need to be scattered and easy to use. The garments need to be adjustable, and each piece should offer a multitude of ways to get in and out. But that doesn't mean adaptive wear has to be bland. That doesn't mean adaptive wear has to boring, and that certainly doesn't mean adaptive wear has to look like "hospital wear" — at all.
In fact, that very notion was the catalyst behind Runway of Dreams, a nonprofit founded by Mindy Scheier that is working hard to change adaptive wear one shirt, one pair of pants, and one outfit at a time.
You see, Scheier, a fashion designer and mother of a differently abled child, started the Runway of Dreams Foundation (RODF) in 2014, after "her son Oliver, who has a rare form of muscular dystrophy, wanted to wear jeans to school like his friends."
Of course, due to his physical limitations, regular jeans were off the table, but Scheier didn't want to disappoint her son. So she stayed up all night modifying a pair of store-bought jeans to make them work for his wants and his needs. The good news is, they did — Oliver wore jeans to school the very next day.
As Runway of Dreams website explains, that moment changed Scheier because it was then she "realized that millions of people around the world were also struggling to access fashionable clothing that meets their needs. She envisioned a world where adaptive clothing for people with disabilities was mainstream. After spending 20 years in the fashion industry and opening a design school for kids, [she] decided to combine her experience and her passion by creating the Runway of Dreams Foundation."
But Runway of Dreams isn't a clothing company. Instead, it is a foundation which "works with the fashion industry to bring mainstream clothing options to the differently-abled community." In fact, according to Scheier, "Our mission with both the Runway of Dreams Foundation and our work with brands and designers is to empower the differently-abled community through fashion. Clothing is a basic human need that has the power to inspire confidence and independence, which should never be compromised because of a disability. Whether we're working to increase access to mainstream adaptive clothing or promote career opportunities in fashion for people with disabilities, our goal is to make the industry more inclusive and representative of all people."
And Runway of Dreams has already made a huge impact. In 2016, they partnered with Tommy Hilfiger to create an "inaugural adaptive [clothing] collection of the brand's iconic children's line, marking the first time a major name-brand designer sold an adaptive version of an existing clothing line." And since that time, RODF has continued to work with Tommy Hilfiger to create adaptive fall, holiday, and spring attire.
But their work doesn't stop there. RODF also helps empower those in the differently abled community through a variety of "employment opportunity initiatives, adaptive design workshops, awareness building campaigns, and scholarship" opportunities — not to mention that on June 8, RODF hosted their second annual gala and fashion show in New York City. And yes, the show featured differently abled models.
And while Runway of Dreams is not yet able to disclose what comes next, I have no doubt this organization will continue making making waves for years to come.
For more information about Runway of Dreams, or to learn how you can get involved/help, visit RunwayofDreams.org.
This article was originally published on