Soon You Can Book A Stay In This Perfect Replica Of The Mansion From 'The Addams Family'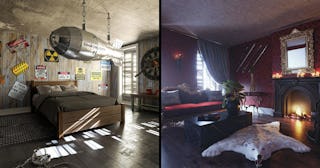 Booking.com
Are you ready to experience The Addams Family in a way like never before? Spend a night in their mansion
The Addams Family mania is currently at a peak, with the 3D computer animated remake of the iconic movie currently in theaters (Charlize Theron as the voice of Morticia, be still our hearts!) and Halloween just weeks away. But for some true fans, watching a movie simply won't suffice in providing their Addams fix. Luckily, Booking.com just announced they are inviting guests to stay in a gorgeously decorated replica of The Addams Family mansion in New York.
The mansion is located in a 3,700-square-foot 19th century townhouse in Clinton Hill, Brooklyn, and it looks incredibly creepy – yet totally authentic. It promises to capture all the macabre that has made The Addams Family a fan favorite for decades.
"Guests will be able to tinker with machines in Pugsley's Room, play with Wednesday's beheaded doll in the living room, and even care for some of Morticia's carnivorous plants," reads the listing.
The house is decorated in true Addams Family fashion, with vases of just rose stems, a polar bear headed rug, ornate gold mirrors, and of course, Lurch's trademark "you rang" bell.
"Careful not to get too spooked if Thing appears while exploring the home!" the listing continues. Spooky snacks, a screening of the film, and branded amenities are included in your stay.
Is this an exact dupe of The Addams' Family living room, or what?
And look, here is Wednesday's room.
Pugsley's room is also spot on, signage and all!
Okay, so maybe the exterior of the townhome isn't a complete mirror of the original The Addams Family home, but it's close enough!
Bookings will open October 28, with four dates available for overnight stays, October 29 until November 1. Guests must be 18 years of age or older to check in and stay at the The Addams Family Mansion, however, children of all ages are welcome if accompanied by a parent or legal guardian. The biggest bummer about the whole thing – and it's pretty huge – is that the house is just three bedrooms and can only accommodate four guests per night. The overnights are sure to sell out in like, a hot second, considering The Addams Family Mansion is available for just $101.10 per night.
In case you won't be making it out to the mansion for a stay, be sure to check out the movie. The latest take on The Addams Family follows their lives as they begin to unravel when they move to New Jersey and face off with greedy, arrogant, and sly reality TV host Margaux Needler while also preparing for their extended family to arrive for a major celebration.
Or, you can stay in the comfort of your home and get your spook on by watching one of these 13 best scary movies.