Adele Posts Exhausted, Make-Up Free Apology For Canceling Show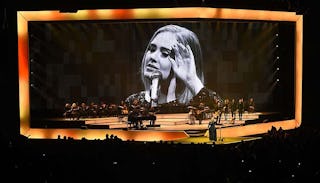 Image via Ethan Miller/Getty Images
Adele apologizes for canceling show with a down-to-earth video
Helloooo?? It's me, Adele, I'm sick. Make-up free and completely unfiltered, Adele makes us fall in love with her again by showing us it's okay to be human. The Brit singer, known for her mesmerizing vocals and impeccably winged eyeliner was basically like fuck it in a video she posted to Instagram for her fans.
Bare-faced and stuffy-nosed, Adele told the world she was sick with a cold. Girlfriend looked and sounded sick. In the video, Adele apologizes for canceling one of her shows in Arizona.
"I'm really, really sorry. I've had a cold for a couple of days, and I've been pushing through it, and I did my show last night, and I loved it, but I pushed too hard, and my cold has gotten the better of me," Adele says.
Hell, we felt sorry for her. You could tell it pained her to cancel the show. She said she hated to do it, but (GASP!) sometimes, you gotta look out for number one.
"I have to look after myself, because I've got so many more shows to do," Adele says. Praise, Adele. Praise. Thank you for recognizing that self-care is important and for being totally real about it.
In the never-ending sea of glamour selfies on Instagram, Adele also posted a make-up free picture of herself alerting her Phoenix fans of the cancellation.
We are taking a note from Adele's songbook with this one. She has a whole beauty squad at her disposal. The star could've sat though a blow out and thrown on her signature cat eye to tell us she had a cold, but nope. She showed us the truth. In doing just that, Adele lessened the blow to thousands of crushed fans that were looking forward to seeing her in concert. How could anyone be mad at her for canceling because of an illness? They can't. And if they are, they have no souls.
Not like fans had to despair for too long anyway. Being the rock star goddess that she is, Adele promptly rescheduled and posted the information to Instagram for her fans.
"Tickets for the original show at Talking Stick Resort Arena, in Phoenix, Arizona will be honored on the new date November 21, 2016 at the same venue," the post reads. If anyone can't make the new date, they should contact their original ticket vendor for a refund, it says.
The response from fans has been overwhelmingly positive. Fist pumps to Adele for keepin' it real, and get well soon.