Adele Releases Blooper Reel For 'Go Easy On Me' And We're Howling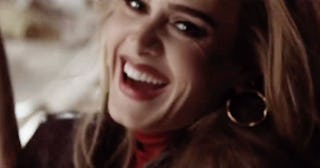 Adele/Instagram
Adele shares blooper reel for "Go Easy On Me" music video
Adele just released a behind-the-scenes blooper reel from her latest music video "Go Easy On Me" and this two-minute clip proves that the iconic singer is not just super talented, she's also hilarious AF.
"It's all smoke and mirrors! Here's all the bloopers from the 'Easy On Me' video," Adele shared on Instagram. In the video, Adele struggles to get the historic cassette tape to play in her vintage car, sings in front of a wind machine as pieces of paper literally blast her in the face, has a goofy fake conversation on her phone, and struggles to do a serious take because her vinyl trench coat keeps making squeaky sounds.
They say that pop stars can be divas, but this goofy reel proves one thing and it's that Adele is funny as hell. Or as one commenter wrote, "adele is SO British it's actually so funny."
It's funny how goofy Adele is while filming this music video, because the song itself is haunting and sad as it details the end of her marriage.
Adele wrote, in a now-deleted Instagram post, that the whole album documents the "most turbulent period" in her life. "I learned a lot of blistering home truths about myself along the way," Adele shared. Adele told British Vogue that "Easy On Me" is, hopefully, a letter to her son, explaining why she had to leave his father.
"I wanted to explain to him, through this record, when he's in his twenties or thirties, who I am and why I voluntarily chose to dismantle his entire life in the pursuit of my own happiness," she told British Vogue. "It made him really unhappy sometimes. And that's a real wound for me that I don't know if I'll ever be able to heal."
However, Adele did explain on Instagram that the writing and recording of the album was ultimately cathartic. "I've shed many layers but also wrapped myself in new ones. Discovered genuinely useful and wholesome mentalities to lead with, and I feel like I've finally found my feeling again. I'd go as far as to say that I've never felt more peaceful in my life. And so, I'm ready to release this album."
Perhaps that shedding of layers is what lead to Adele being so funny and buoyant behind the scenes of the "Easy On Me" video. Sounds like that joy was a long time coming.
Next up for Adele is a forthcoming CBS special airing on November 14, 2021, and the release of her album 30, which will drop on November 19, 2021. I know Adele's album is supposed to signal sad girl fall, but Adele's latest video has me wondering if maybe it's a "sad, but funny" girl fall, no?
This article was originally published on