Adele Announces Her First Concert Dates In Five Years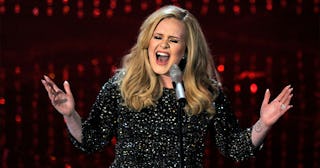 Chris Pizzello/Invision/AP/Shutterstock
Adele announced her first live concerts in five years, and caused her own website to crash after fans rushed to register for presale tickets
Adele is back. In recent months, the "Someone Like You" singer has announced her upcoming album, released an incredible single, and basically broken the internet like, five times. And now she's down it again by announcing two upcoming live concerts — her first in five years!
Adele is set to perform at London's Hyde Park on two nights, July 1 and 2, next summer. She announced the shows by tweeting out a poster, which was captioned with "Oiii Oiiiiiiiiiiiii," and a heart emoji. She also linked to her own website where fans could allegedly register for presale tickets.
Not that that happened. Adele's website crashed pretty quickly amid the flood of people trying to register. As of Wednesday, more than 24 hours after Adele's tweet, fans were still reporting issues accessing her website and error messages when they tried to get to the presale registration page. Probably safe to assume this is going to sell out — and quickly. It's really no wonder, though. Adele has been sitting comfortably at the top of both the U.S. and U.K. charts since she released her single, "Easy On Me," two weeks ago. Just casually hanging out at the top of the charts like the queen she is.
There's also the fact that the two shows will be the first time Adele performs live since 2017, when she went on a hiatus to focus on her family. Fans can probably expect that she'll perform plenty of her hits, but also focus heavily on her highly anticipated fourth album, 30, which is set to be released next month. 30 is a follow-up to her album 25, which won Album of the Year in 2015 — as well as every single Grammy that it was nominated for. When Adele released 25, it was a welcome surprise after a hiatus that preceded that album, so clearly she has a system that's totally working.
In the meantime, the public can at least enjoy an Adele concert from the comfort of their homes on November 14th when the star helms a 2-hour special that will include an interview with Oprah.
As if the news about Adele concerts could get any better, the singer's Hyde Park shows will reportedly also include Elton John, Duran Duran, and Pearl Jam. It's already clear that tickets are going to be next-to-impossible to come by, but if you want to register for a pre-sale link, you can try to do that on Adele's website. No guarantee that it won't still be crashing under the weight of all her adoring fans.