Adele Had The 'Titanic'-Themed Birthday Party Of Our '90s Kid Dreams
by Christina Marfice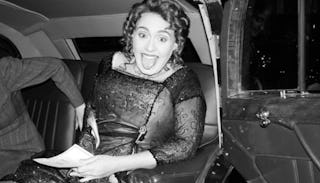 Image via Instagram/Adele
Adele's Titanic-themed birthday party was as good as the blockbuster itself
Adele, who is basically the queen of movie reenactments, has done it again. The singer rang in her "dirty thirty" birthday with a theme party that speaks to all of our '90s-loving hearts: Adele and her guests dressed as characters from the 1997 James Cameron film Titanic.
Adele's Rose costume was honestly perfect, from the totally on-point replicated gown to the ringlet-curl updo. This whole scene was pulled off perfectly and I have questions, like where did she get this grand staircase replica that she posed for photos on?
Here she is posing in that car from that scene — again, where did she get it?? Does Adele just have enough money to throw her birthday party on the actual set of Titanic? OK, yeah, actually she probably does. By the way, we're also in love with how she shared the photos in black and white, as one does when pretending it's 1912.
And here she is on the dance floor with all her friends in the 1900s life jackets that were actually included in everyone's gift bags. Has anyone ever nailed a theme party like Adele just nailed a theme party?
The party was made even better by how seriously the guests took the theme. Other celebs showed up in picture-perfect period attire, and documented it all on social media, of course. DJ Zane Lowe and actor Aaron Paul both nailed their 1900s gentleman looks.
Musician Mark Ronson and his crew dressed up as the string quartet that played on deck as the ship went down.
https://www.instagram.com/p/BiccML6gKZL/?utm_source=ig_embed
Ronson's costume was complete with actual fake ice in his hair, which is pretty morbid but also real dedication to the theme. And check out the guest dressed as the Titanic's captain in the background of his shot.
Of course, not everyone loved this party idea. Some people were offended, thinking Adele was making light of the actual tragedy that was the sinking of the Titanic.
But um, guys, Adele's party was themed after the movie. She and her guests were dressed as fictional characters from the movie, like Rose Dawson and Cal Hockley, who didn't even exist in real life, but were created for the fictional love story in the movie. Everyone calm down. Also, Adele throws movie-themed parties for all of her birthdays.
This tweet probably says it best:
Anyway, no matter where you fall in that debate, there's a part of you that wishes you were invited to this party. You don't have to admit it. We know the FOMO all too well, because we feel it too.