Hang Out In Adele's Gorgeous LA Home By Watching Vogue's '73 Questions'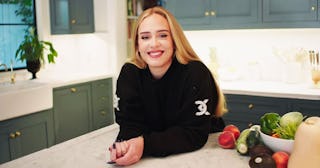 Vogue/Youtube
Adele teases fans with hints about her upcoming album, and reveals whether she's Team William or Harry
After blessing fans with "Easy on Me," her first new single in years, Adele is gearing up to drop her fourth album next month. Ahead of its release the British singer is on a publicity tear, most recently sitting for Vogue's "73 Questions." Except everything Adele does is big — so this time around, it was actually 95 Questions. Gotta love bonus content.
The illuminating interview gave fans a rare glimpse into Adele's life, from her writing and recording routines to her fave eyeliner (Pat McGrath is apparently responsible for that iconic cat eye look). Oh, and we can't forget her insanely gorgeous house, which includes an awesome built-in bookshelf with actual books. Some choice tidbits from the interview include an apparently deep love for Celine Dion: Adele named "My Heart Will Go On," as the song she'd sung the most often in her life outside of one of her own — but that wasn't the only time Dion came up.
Asked to name her most prized possession, Adele gleefully ran from her backyard back into the house to show it off. A Grammy award, maybe you were thinking? A Platinum record plaque? A priceless jewel to celebrate her musical success? Wrong, wrong, and wrong. It's actually a wad of Celine Dion's gum, chewed up, dried out, and placed inside a frame (scroll to approximately 13:00 minutes in if you don't believe me).
"James Corden, who's a friend of mine, but also does 'Carpool Karaoke', which I did — he did it with her and knew how much a fan of her I was, so he made her spit her gum into a piece of paper and he framed it for me," she explains. Now that's a true friend.
In a round of British-themed "Would You Rather…" questions, Adele hesitates just a moment before declaring her preference for Prince Harry over Prince William, and boldly asserts she's more into the Spice Girls than the Beatles (though she does add that it's not really a fair question).
The interview did touch on some slightly more serious topics, including what the singer thought was the best parenting advice she ever received. That came from her own mom: "To chill out and stop being so regimented with a routine." YUP. I'll co-sign that.
In one particularly relatable moment, Adele was asked how becoming a mom impacted her songwriting. "I don't really have much time to do it anymore," she says, which sounds about right. Kids do have a way of cutting into one's me-time, even if you are a world-famous songwriter.
Still though, that didn't stop her from churning out at least one powerful, emotional single in "Easy on Me,"and we suspect there's many more to come when the next album finally arrives. "73 Questions" didn't manage to pry the name of that album out of Adele (widely suspected to be "30") — but fans will find out when it drops on November 19.