Adidas Has 'Toy Story' Sneakers For Babies And Kids And We Need Them All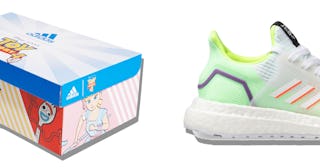 Adidas
Don't even think about going to see Toy Story 4 without a pair of these adorable Adidas for your little ones
The summer of Disney continues, and next up on the list of epic releases in store for us is Toy Story 4. Obviously, we will all be going to see it in theaters, preferably on the day it's released. And obviously, we will all be dressed in our Disney best when we do so.
There are already plenty of options for this. Target released a new line of Disney-inspired clothes for women, and every piece is nostalgic and perfect. And Freshly Picked has a line of Toy Story themed moccasins out for kids, including a pair of Woody kicks with "Andy" printed on the sole in a kid's scrawl, which almost made us die from cuteness overload. But if those options aren't for you – say, if you have a kid who wants to wear their love of Disney in a slightly more subtle way — well, Adidas just came through.
A whole line of TS4 sneakers for infants and kids just went up on the Adidas website. And instead of featuring prints of characters or scenes from the movie, they play a more subtle homage to characters like Buzz, Woody, Bo Peep, and the new addition to Andy's toy gang, Forky, by being designed with the color palates of each character.
Not sure what we mean? Here, check out the Buzz Lightyear version for kids.
It's not in-your-face Buzz Lightyear, but that color scheme, complete with those diagonal, orange-and-white stripes, is iconic. Once you know you're looking at Buzz, all you can see is Buzz.
And yes, some of the styles come in infant sizes as well. Here are the Buzz shoes for babies. It's OK to squeal. We did.
If your kid is more of a Woody fan, don't worry, Adidas has that covered too, with another style that's subtle, but completely recognizable once you know what you're looking at.
Unfortunately, as far as we can see from the product shots, there's no "Andy" scrawled on the bottom of this, or built into the tread, or anything like that. But there is a ridiculously adorable infant-sized version.
Got a kid who's stoked AF to see Bo Peep make her big return in Toy Story 4? Let them wear that excitement — right on their feet — with a Bo-themed pair that I personally would be buying ASAP if they came in adult sizes (come on, Adidas!).
And Adidas couldn't leave out the newest character in the series: Forky, a craft project-turned-toy who Bonnie is completely obsessed with.
Even the box these shoes come in is so cute we want to give it closet space immediately.
Seriously, these are must-haves this summer. They're not available quite yet, but you can preview the entire line on the Adidas website, and get ready to hit "Add to Cart" on June 21, because we have a feeling these won't last.
Toy Story 4 hits theaters June 21. That means you have exactly 1o days to prepare yourself with Disney apparel. Happy shopping!
This article was originally published on