Who Needs A Husband When You Can Have A Dog?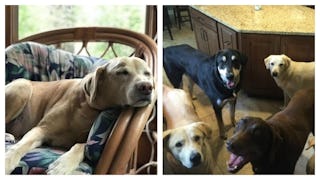 Jennifer Ball (left photo) / Beth Van Fossen (right photo)
I call our yellow lab Walter the "Divorce Dog." The kids and I found him at the Humane Society exactly one month after the end of my marriage was finalized.
He was just about a year old. Skinny and weary, with a bloodied, bandaged tail that swished back and forth on the concrete floor of his cage. We had looked at a few other doggies, including a beautiful border collie named Maggie. But Maggie nipped at one of the kids, so I walked over to the narrow cinder-block stall where Walter waited and said, "Hey kids, how about this sad guy over here?"
We took him out to play for a bit. He ran around with the kids for a while, pretending to be very interested in a tennis ball (he hasn't acknowledged one since) and then ambled over to me. He sat down, leaned against my legs, looked up into my eyes, and sighed.
That was all it took.
He came home with us that night and has been a constant companion ever since. He kept me company back in the early, lonely days when the kids spent every other weekend with their dad, has managed to get my lazy ass outside walking all year round, and taught all of us that love can be constant and unconditional at a time when we doubted it.
He has guarded us from squirrels and falling leaves for over a decade now, and although I sometimes wonder who he'd pick if he had to choose between us and an open bag of beef jerky, he truly is a member of our family.
While we were in the process of filling out the paperwork to bring Walter home, a neighbor of ours who also happened to be adopting a dog at the Humane Society that day stopped to chat. He said to me, "Every kid needs a dog," and I smiled. And then I thought to myself, Maybe every divorced woman needs one too.
Here's to Walter: the best foot-warming, smiling, window-smearing-nosed, couch-dwelling Divorce Dog ever.
I shared this ode to my canine savior on my Facebook page recently, and encouraged my readers to share pictures of their Divorce Dogs (and cats!). And whoa, did they share!
Looks like Walter has plenty of company. And so do some lucky families.