These Photos Will Convince You Cake Smashes Were Meant For Adults
by Jerriann Sullivan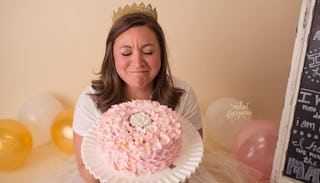 Via Rachel Farganis Photography
Champagne, hilarious chalkboard help adult cake smash photos go viral
Champagne, glittery shoes, and a hilarious chalkboard are just a few details included an adult cake smash photo shoot that looks like it could be more fun than the original ones for babies.
Serina wanted to celebrate her 40th birthday in a unique way and enlisted the help of a group of women, including photographer Rachel Farganis. The ladies are part of a Facebook group called "The Real Housewives of Saint Paul," which is where the birthday girl originally shared the idea for an adult cake smash. "Without skipping a beat, I responded and said, 'Omg. Count me in. This will be epic,'" Farganis told Scary Mommy.
And indeed, it was epic. The group of ladies, four in all, gathered gold, white, and pink balloons, a seriously delicious looking cake, pink champagne and the perfect "I'm turning 40 and feel great" outfit for Serina complete with a crown, tutu, and sparkly shoes. "Serina is a bucket of sass on a normal day, so I knew this would be fun! There was a lot of thought that went into the little details—the shirt, the tutu, the shoes," Farganis explained.
Our favorite prop has to be the chalkboard that reads "Serina Aged To Perfection." It "was a total surprise to Serina–she let yet another Housewife friend of ours put it together for her," Farganis said. "I weigh none of your damn business," might be the best quote from the board, but we also love the subject's favorites that include Bravo TV, helping people, queso, and vodka. We also learned that she has "the mouth of a sailor and the heart of a lion."
Farganis has tons of experience shooting baby cake smash photos. She told Scary Mommy that while this is her first 40-year-old cake smash, the earlier photo shoots helped. "The experience of working with one-year-olds definitely helped when directing her what to do, though," she said. "I tried to mirror the fun that comes along with placing a kid in front of a cake and letting them go to town on it."
With so many fun features, how could the ladies not have a blast? "I hadn't laughed that hard at a photo shoot in a long time," Farganis admitted. Her favorite shot is the one of the subject flipping the bird. "Serina had given the other gals with us the finger in jest, so I had her re-do it with cake…it just worked," she said. "I suppose my favorite part can't be narrowed down to just one aspect of the picture (though the middle finger takes the cake, literally), but I just love the amount of fun and planning that went on behind the scenes to pull this off!"
I know what you're thinking, "what happened to that delicious cake and champagne?" After all their hard work, the ladies rightfully indulged. "The four of us celebrated after the shoot by finishing the bottle of champagne and eating chunks of the cake with our hands–so classy!"
This article was originally published on