My 'Big Kids' Came Home For The Summer, And I'm Loving It
by Tina Drakakis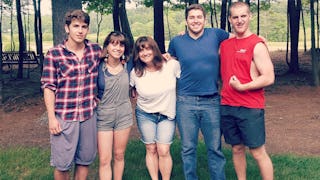 Tina Drakakis
I should probably start with a disclaimer: what you are about to read ends in a cliffhanger.
Alas, folks, there will be no binge-reading to the end: you and I both will find out the outcome together in due time.
My two older children have returned home this summer, after living on their own for the past couple of years. Also, since starting college my third-born will be home full-time this summer as well. So now, after getting a (somewhat) sneak peek of what an empty nest might look like I'm back to a full house. Alrighty then. Anyone else excited to see how this (interim) honeymoon lasts?
I say somewhat because my nest hasn't truly been empty. My youngest, still in high school, has always been here but you remember those days: between school and sports and work and a tendency for Taco Bell, his presence is usually only detected by his residual scent of deodorant or fresh globs of toothpaste on the counter (and mirror and floor and…). Plus my middle guy has been coming and going all year from his local college so sure, there's been plenty of noise and laundry churning throughout the calendar.
I say interim because both adult children that have ventured out into the world have plans to resume their independent adult trajectories in the fall so this is basically a pit stop for them. A breather. An extended visit. I am a little more than well aware once our Summer of Love is over this might definitely be it for our party of six.
I've had some time to come to terms with our last hurrah but not so much the onslaught of well, stuff that comes with this reunion. And by stuff I really do mean stuff. The carloads of boxes that kept coming through the front door and up the stairs were anxiety inducing. With every Rubbermaid tote that passed, I couldn't help but feel the rooms shrinking in my once-spacious home.
Still, a few deep breaths exhaled and I turned on my heels and carried on.
I'm thinking my kids might be a little surprised to find their mom is a lot less uptight than when they were last here.
I've always run a pretty tight ship. You know, the usual: rules, respect (really, feel free to check out any earlier posts about my oldest son surviving high school with less electricity than the Amish. He's pretty good at math but I'm fairly certain it's because he may have been grounded and gotten his calculator taken away, too, so he had to adapt). I was always a stickler for mundane, common courtesy because seriously people, just pick up after yourselves and Angry Mom stays dormant. I've always kept a relatively tidy (please don't look closely at the baseboards) house.
But the sheer volume of items currently dumped throughout the length of my second floor– approximately 2 apartments worth – has morphed my steely resolve into unashamed submission. No joke, there are presently areas of my house that are in violation of EPA regulations. But you know what? Rather than fret about what people might think about us filthy Americans (why bless your heart, is that two 55-inch televisions side by side?), I'm following the lead of a Disney princess and letting things go. All those cups and shoes and cereal bowls and food wrappers and sink hairs are rolling right off my furrowed brow for a few short weeks.
It's a downright Fortnite free-for-all up in that family room right now but yes, while I chant to myself I can do this, I can do this, sometimes I catch myself grinning.
Oddly enough, I really, truly don't mind the temporary chaos and disaster zone. Could it be that I'm older? Maybe a little bit more tired? Heck, I've written enough this year about life's unexpected curveballs so I'm certain that silent thunder of time swooshing by is factoring into my Brand New Me. Whatever it may be I've decided to embrace my dog days of summer with my big, fat (filthy) family and ignore the mess.
It was simple serendipity that brought us all back under the same roof, not a grand master plan and (sniff) no one missing their mommy. It just kinda worked out, what with leases and jobs ending and future plans starting to gel into different zip codes.
So now my beds are full (although aarrrgh! this has significantly affected my options of refuge when there's a rumbling bear dad sleeping next to me) and sometimes even the couches are full, too. I've come down many a morning to a sleeping figure in a room with lights on and electronics still buzzing. In the olden days that stuff used to chap my ass and I'd screech until the guilty retreated back to his own room. But now when I spy it, I turn off the juice, tiptoe out the door and go off to work.
It's a mind shift. Rather than focus on all the frustrations that used to sour my mood almost daily, I am choosing instead to spend my summer in wonder.
I wonder if any of my kids even notice how much I've mellowed.
I wonder if the older ones are hissing a collective "What the %@&#*!!*" when I go to sleep before the younger ones even come home at night.
I wonder if my mom is rolling in her grave, seeing I've eschewed my own upbringing and have decided not to require rent/room and board from any of my adult children passing through this summer. I know, I know, I debated for a long time about this because I've held to it in the past. It's never about the money (although, lord. that grocery bill). Plainly, I want my kids to think of their home as a place they can always come to, no matter what, without conditions, with no questions asked. Since this is likely the last time we'll be living together, I really want this time to be a happy memory for everyone. So, I'm sorry, mom, forgive me. Everyone's getting a financial hall pass this summer.
I wonder if the plans my kids are making — the determined, fearless and optimistic blueprints they've designed to move across the country and move in with their sweethearts in search of adventure — will all work out.
I wonder if my younger ones will follow their siblings' lead and leave their folks rattling around a big old house in due time.
I wonder if we folks will find ourselves kicking up our heels when they do… or living a plot twist by leaving it all behind to follow them.
I wonder about all these things as I'm food shopping and cooking and cleaning and stepping over things and sharing cars.
So yes, the rent and the laundry and the grocery bills and the mess … it's all getting my Who Cares shrug for a little while because I'm enjoying my summer.
I find myself reveling in the late-night banter of siblings. It fills me completely.
I catch myself straining to listen to snippets of podcasts through bedroom doors and over shower water. I am fascinated with their interests.
I become elated to find everyone happens to be home for dinner on any occasional evening. Even if it's a short 30 minutes for burgers on the grill before everyone scatters again, it's a huge 30 minutes.
Huge.
But about that cliffhanger: we'll just have to wait and see if Pollyanna is still skipping around her house in August picking up wet towels and humming sweetly about pole vaulting to get to her washing machine. Who knows, she might be long gone by the end of July (truth: it only took a few weeks before I declared no one was getting their favorite foods on my shopping list if their rooms weren't picked up) so that should be interesting.
For now, we're just taking it one day at a time.
Because every parent knows, things go from this …..
to this ……
In a heartbeat. xoxo
This article was originally published on