UC Berkley's 'Adulting' Class Should Be A Thing At Every School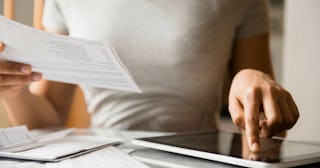 JGI/Jamie Grill/Getty
Another 'adulting' class pops up at UC Berkeley to teach students life-skills like paying taxes, making friends, and meal planning
All across the country, 21-year-olds will graduate from universities with a 50-page thesis on the intersection of colonialism and capitalism under their belt, the know-how to solve complicated math equations, and such advanced understandings of biology that they're ready for med school — and yet, these same young people don't often know how to budget, what a 401k is, or how to format a resume. A common millennial refrain is that "adulting is hard," and now Gen Z is following suit. Many schools and programs across the country have started offering "adulting classes" and Jenny Zhou and Belle Lau — two students at UC Berekely — decided to launch an "adults in training" course at their university to prepare their peers for life outside college.
The extremely popular class is taught by the two Berkeley undergrads and features guest lectures on everything from applying for jobs to navigating romantic relationships. In fact, Lau's own mother stopped by the class to spend a day talking about filing taxes. "I need to learn how to get this adult thing down and manage life," one student in the class told the LA Times, while another UC Berkeley grad told Campus Reform back in September, "Where was this class when I needed it? I don't even know how to pay my own taxes, yet somehow I graduated with a degree from Berkeley."
Lau said she was inspired to launch the class when she moved out of the dorms her sophomore year and was stunned to learn she was running out of money from eating takeout nearly every night and didn't have the basic skills for things like meal planning.
"We're thrown out into this world and have little idea about what the heck we're supposed to do," said Lau, 21. "I think in general we all feel a little bit lost and don't know where to start."
Once upon a time, high schools would teach Home Economics, but those classes are largely extinct nowadays, and college students who can do advanced trigonometry don't necessarily understand how to balance their personal finances.
As a millennial who graduated from college in this decade, I can attest to the number of my peers who were completely blindsided by the prospect of applying for apartments, building credit, or even basic things like how to dress professionally for a job interview or how to shop for groceries that will actually make a cohesive meal.
In addition to this Berkeley class, the Adulting School in Portland, Maine, offers classes on interviewing, conflict resolution, and even making friends as an adult and North Bend Public Library in Oregon offers a six-part course called "Adulting 101: Basic How-Tos for Ages 16–25."
You can say it's the parent's job to teach their young adults how to budget and how to cook, but whatever the reason, entire generations of young people struggle with basic life skills and if college is stepping in to fill that gap — more power to them.
This article was originally published on