Travel Through Art With These 11 Amazingly Aesthetic Coloring Pages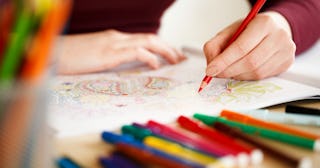 damircudic/Getty Images
Given recent world events, you've probably spent a lot of time at home lately. And, if you have kids, that means you've probably done a lot of easy at-home activities like coloring. Although, hey, coloring pages are a great creative distraction for anyone. But the following coloring pages, well, they're a fantastic fit for the masters. Aesthetic coloring pages challenge you to take it up a notch! Pro pointer: Leave your chunky markers in the drawer, because these incredible pages beg for colored pencils or other art mediums that have a very fine tip.
Out of all the coloring pages in the world, these are indeed a ton of fun to color. Another reason we adore them, aside from their visual beauty? They force you to slow down and take your time. We typically live life at full speed, forgetting to enjoy the art of leisure. Not with this type of coloring page, though. Sit down, get lost in your thoughts, and enjoy looking at your very own masterpiece after your period of artistic contemplation.
Below, you'll find some of the best aesthetic coloring pages for making you feel like a genuine Monet. And when finished, you can turn your keen eye to other scenic printables like our beach coloring pages, forest coloring pages, nature coloring pages, and solar system coloring pages.
Free Printable Aesthetic Coloring Pages
Aesthetic Page No. 1
Doesn't this little town look charming? From the flowers in the balcony sills to the residential bridge, this is a place most people would love to visit. Make it even more adorable by adding fun colors. The stones on the walking paths would look fantastic in slightly different shades of brown.
Aesthetic Page No. 2
Now, this is another place worth visiting — and based on the water, this is an excellent opportunity to use your greens and blues. Don't be afraid to make some of the buildings a bit bolder than others. Variety will ensure this coloring page truly stands out! Shade some of the homes darker and the others lighter to make this page pop.
Aesthetic Page No. 3
If you're a hodophile, you probably took one look at this windmill and felt transported to the Netherlands — specifically the Zaanse Schans, the world's first industrial area. Today, the 250-year-old windmill park serves as an outdoor museum where you can find the five biggest windmills in the world. Fun fact: Windmills have been around since 2000 B.C.!
Aesthetic Page No. 4
This aesthetic coloring page is quite dynamic. Not only will this stretch make you feel more awake and alive, but coloring it will remind you that there's a lot to the human body. For those looking for a bit of peace and tranquility, this coloring page fits the bill.
Aesthetic Page No. 5
If you're anything like us, you've been collecting succulents and other house plants throughout the year. Plants are a fantastic way to introduce more life into your home. This coloring page will help you appreciate them in a whole new way, especially if you're a bit intimidated by cacti in real life. Did you know this prickly plant becomes wood-like over time and in Latin America, they're used to make furniture? How cool!
Aesthetic Page No. 6
This coloring page is almost like two in one — perfect for people who equally enjoy the comforts of the indoors and outdoors. For those of us with balconies, they've become a much-needed way to get some fresh air while staying safely indoors. Get creative thinking up the color of the wallpaper in the left image and shading in the stack of books. What would you read while sitting in the rocking chair?
Aesthetic Page No. 7
Do your walls look like this? It's satisfying to create art from art. Coloring in the Polaroids will be a lot of fun, possibly reminding you of vacations from the past. And really, who doesn't love a good vacation flashback?
Aesthetic Page No. 8
Feel inspired to join a yoga class just yet? It's a great way to help soothe your mind, much like coloring itself. Try to choose three different focal colors for these floral backgrounds to imbue this coloring page with more depth. Fun fact: Did you know yoga is over 5,000 years old and practiced by more than 300 million people?
Aesthetic Page No. 9
Ever try coloring in a mirror before? Well, how about 22 mirrors? Make them even more fun by showcasing what they may be reflecting. Or perhaps this is a wall of vintage portraits? What storied history might they have? Coloring allows you to stretch your imagination in all sorts of exciting ways.
Aesthetic Page No. 10
It's hard not to fall in love with a home with so much greenery! It reminds us of the charming facade of a row house in Europe. As you color, imagine the clattering sound of your shoes on cobblestone and the smell of fresh artisanal bread drifting by from the local bakery.
Aesthetic Page No. 11
Our favorite is the hot-air balloon with the fish on it. Did you know the first hot-air balloon took flight during the 18th century? However, there's documentation and blueprints of hot-air balloons that date back to third century BCE China. Zhuge Liang, a Chinese inventory and military strategist, used them to send messages to troops.
Click here to print all of the aesthetic coloring pages at once!
This article was originally published on