From The Confessional: I Don't Regret My Affair One Bit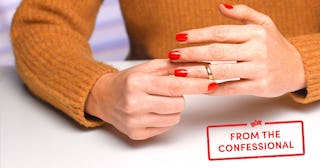 Peter Dazeley/Getty
Affairs can destroy relationships, marriages, finances, and lives—but a lot of people DGAF when they're getting away with it!
Usually, when someone admits to having an affair, they express regret and remorse. Affairs can, after all, completely derail lives—that of those engaged in the affair and those who are innocent bystanders (spouses, kids, families, friends, etc.).
But what if you're someone who doesn't regret your affair? Maybe you didn't get caught, and now it's over. Maybe you did get caught and you still don't regret it. Either way, there are plenty of moms out there who don't regret their affair one bit. Some still fantasize about their affair partners, some are just perfectly content that the affair happened and it gave them what they needed. Others are already looking for another affair partner!
Either way, these women are perfectly okay with what they chose to do, willingly, between the sheets with another person. And boy are these confessions just downright juicy.
I was devastated when H wanted to work it out after finding out about my affair. If me fucking another man didn't run him off, nothing ever will. :(
Confessional #25835736
I had an affair 1.5 yrs ago. My husband discovered everything. My AP's wife never knew a thing. He slithered back to his family scot free. I saw pictures on her FB recently of them hugging and talking about their "love". Girlfriend, if you only knew.
Confessional #25835595
I had a year and a half long affair with my brother in law behind H's back 15 years ago. I think my youngest might actually be his.
Confessional #25835419
I had an affair, and it was great. Interestingly, it wasn't as much about the guy as it was about about how insanely happy I felt picking out new underwear and compiling my iTunes sex playlist.
Confessional #25835358
I think it's totally okay to have an affair for sexual purpose if your H is disinterested in sex or has poor performance in bed. I have been enjoying a lot with other men and it's totally possible to separate marriage and sexual needs.
Confessional #25835323
Some women are in sexless marriages, some are using their affairs as an escape from toxic marriages, and others, well, they just want to get laid by people they aren't married to.
Our sex life is a joke. H doesn't bother to work on it and the spark is long gone. I have started an affair with a young colleague and realised I was missing a lot. Wish H see the importance of sex sooner before I become a total slut.
Confessional #25835321
I have carried on lesbian love affairs in secret. It will ALWAYS be in secret.
Confessional #25834849
The only way forward for this marriage is for me to have the occasional affair. After everything he has done to me over the years, the thought of only having him till I die is soul-destroying.
Confessional #25834456
After yrs or emotional, mental and physical abuse from DH.... i have finally caved into starting an affair with his gorgeous son who is 2 yrs younger than me.
Confessional #25831993
The worst part of my affair was the breakup. I love him so much. he's a good man who ultimately wanted to do right by his family. He made me realize I deserve more than the abusive marriage I am in. A reason for everything, but now where to go from here?
Confessional #25829239
Some women are falling for their affair partners on a deep level, and some are just using them for what they are: sex partners. People who make them feel good in more ways than one, but that's it. No strings attached.
I have been having an affair with my ex boyfriend for 4 years. He is married. We know we are the other half of eachother. I don't think it will ever end. My only love....
Confessional #25821933
I miss the man I had an emotional Affair with so much. Trying to figure out the safest way to contact him again...I don't plan on leaving my H but I need to have this guy in my life. I. Any stop Thinking about him
Confessional #25819960
i am having an affair with my ex-husband, who is with someone else and i have zero guilt about it. he was a shit husband but i am sick of just trying to not love him anymore and this works for me.
Confessional #25814125
I had an affair with a "friend" for 4 years before we called it quits. This month his wife and he are celebrating their anniversary of 17 years! Sporadically he still messages that he misses me. .
Confessional #25813034
I've been having an affair for almost 10 years. I want him to leave his wife and I'll divorce my husband so we can be together. We are in love and physical often.
Confessional #25812595
A lot of women are ready to risk it all for their affairs. Do you know someone having an affair? Are you someone having an affair? Is it actually possible to avoid messiness and destroying lives, or are some of these "confessors" just living in a fantasy world?