Where Are The Quality, Affordable Child Care Options?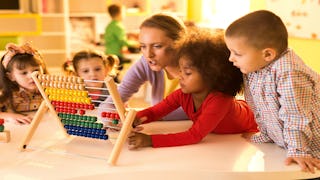 skynesher / iStock
Like approximately half of all Americans, you probably live in a what American Progress Reform calls a child care desert. A child care desert is "A child care desert is any census tract with more than 50 children under age 5 that contains either no child care providers or so few options, that there are more than three times as many children as licensed child care slots."
This shouldn't come as a shock to any of us, really. A national poll conducted in 2015 by The Washington Post shows that "more than three-quarters of mothers and half of fathers had passed up work opportunities, switched jobs, or quit their job due to a lack of paid leave or child care." American Progress cites another study that discovered most parents had only one or "just a few" realistic child care options.
Clearly, we're short on daycare here in the U.S. And not just short on daycare — short on affordable, quality, licensed daycare. According to the U.S. Census, one-third of all U.S. kids younger than 5 are in some kind of regular non-relative care — that's a hell of a lot of American children at stake in a system that is, at best, scattershot and broken, and at worst what the New Republic describes as "Dickensian." But it's not for lack of parents' trying. They simply do not have access to quality care, or quality care may be beyond their reach.
Think "beyond their reach" in many cases. According to Money, most Americans spend 10% of their income on child care. The Department of Health and Human Services names a 7% figure as affordable; the only state that makes it is Louisiana, and that's due to massive tax breaks. A Care.com poll found that some are spending up to 25% of the money they take in, says USA Today.
Working Mother cites one mom who spends from $2,800–$3,000 a month for her infant and 4-year-old daughter. If you have two kids — say, a 4- and an 8-year-old— your child care costs probably exceed rent, says the Center for the Study of Child Care Employment at Berkeley (CSCCE). And if you make minimum wage, you're screwed. Infant-based care will cost you an average of 31.8% of your income in South Dakota, and a laughable 103.6% in Washington, DC.
We need tax breaks, and we need them now. Louisiana did a good job with its School Readiness tax credits, says Working Mother, which give 16 million a year for early childhood education. Moreover, "in addition to offsetting fees, the provisions incentivize daycare workers to strengthen their credentials, and offer financial support for care providers, many of whom are moms themselves." Capping child care expenses, which Hillary had planned to do at 10%, is a huge help to many families, especially those who are low-income. Same goes for what the CSCCE calls "employer-sponsored dependent care flexible spending account," which would "allow an employee to exclude from taxation up to $5,000 of his or her salary."
Then there's the question of quality. Daycare centers themselves have a major quality issue, with only 10% rated as excellent by the National Institute of Child Health and Human Development, say Working Mom. Most programs were rated "fair" or "poor." And we all know how important early childhood interaction and experience is — it helps to determine everything from a child's educational success to how successful they'll be in life.
With such low pay — basically minimum wage — child care workers are hard to find and retain. According to the New Republic, "In 2011, the median annual salary for a child care worker was $19,430, less than a parking lot attendant or a janitor." Almost half get "public assistance like food stamps or Medicaid." You can't give your best self to a child when you're worried how your own kids are going to eat tonight.
With the high cost of licensed daycare, and the prevalence of daycare deserts, many — especially those in child care deserts — turn to unlicensed care as a solution. Information from the Childcare Block Development Grant tells us that 15% of low-income kids who receive it are in unlicensed care, says the Early Learning Policy Group.
They continue, "In many states, these unlicensed providers are not required to have training, there are no minimum health and safety protections for children (or maybe there is a checklist that providers submit 'self-certifying' compliance) and no inspections are required — unless there is a parent complaint." And in Virginia alone, in 2014, a staggering 46 children had died in unlicensed child care facilities over the past several years.
The New Republic reveals that the death rate of infants in home settings was 7 times that of daycare centers. Unlicensed care does not require a background check, inspections, or training on things like emotional development and safe-sleep practices.
It doesn't have to be this way. France's system of state-sponsored daycare, the crèche, is so phenomenal that people fight for spots. It's actually, the New Republic says, part of the public health system. According to Slate, these crèches are open the length of workday, from 7:30 a.m. to 7 or 8 p.m., and have a sliding-scale fee program. Moreover, at least half of workers must have a specialized college diploma in early child care and education, and "a pediatrician and a child psychologist are on call at each crèche." Tellingly, a whopping 80% of French mothers work while only 64.7% of American mothers with children under 6 work outside the home — and that number drops 3 full points when they live in a child care desert.
We need comprehensive daycare reform, and we need it now. We need more safe, inspected, trained, and licensed daycare that's affordable for parents, especially working poor and low-income folks. Government subsidies can make that happen.
But what American children really deserve is a system akin to that of France: one with trained workers, with medical professionals on call, with a sliding-scale fee program. And we need lots of them, especially in underserved communities — in so-called child care deserts — so mothers can go back to work if they choose, and the mothers who are working can afford quality, licensed care. It's a tall order. And it's not likely to happen under this administration, but the establishment of more affordable, licensed centers in places where there are no, or very limited, options would be a great place to start.