You Might Have More Affordable Healthcare Than You Think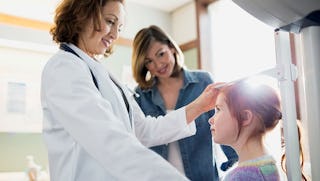 Your entire family has been hooked up with all the appropriate doctors. You've got a pediatrician for the kids, a general practitioner for you and your S.O., an OB/GYN, and a therapist (because life). All the doctors are in-network with your insurance plan. You're a rock star!
But What About All the Other Stuff?
Wait, what other stuff?
Just when you thought you had it all under control, your doctor says your little one needs to go to a separate lab facility for an allergy test. You groan. Isn't this going to cost you a million extra dollars?
Actually, no. Lab visits are often required for supplementary procedures, such as allergy testing, blood tests, genetic tests and more. Check to make sure your lab is in-network before you pay through the nose.
You can also get affordable in-network rates at other health services, such as urgent care centers (a mom's best friend), nutrition counseling, chiropractor health services, and more.
Why Is "In Network" Such a Big Deal?
Money
You'll spend way less money if you stay in network. Insurance companies contract with healthcare providers (doctors, hospitals, labs, etc.) for discounted rates, which get passed on to plan members like you. Staying in network means lower or even zero out-of-pocket costs.
Quality Care
No big surprise, but insurance companies don't want to pay out any more money than necessary. As a result, they only try to work with high-quality providers who won't cause any problems. That means better care for you.
In lab testing, for example, insurance tends to partner with labs that pinpoint the diagnosis as quickly as possible without repeat testing. Isn't that nice – your insurance company doesn't want you to get a second round of blood work any more than you do.
Hospital Coverage
Just because a facility is in your network, that doesn't mean all the providers and all the services within that facility are in network. If you don't do your homework (ugh, sorry), you could end up paying higher out-of-network prices for some services. Contact the hospital and ask if the specialist or any ancillary services you need are in your network, such as lab testing or nutrition counseling.
Pay Attention to New Network Additions
Behind the scenes, your insurance company is busy negotiating contracts with providers all the time. If your insurance builds on its network by adding new providers, you'll want to see how those changes could benefit your family.
For example, one of the largest insurance companies in the country, UnitedHealthcare, just strengthened its network by partnering with Quest Diagnostics, one of the largest lab testing companies in the nation. Just like that, 48 million UnitedHealthcare members have a new option for lab services. Those members can now choose Quest to take advantage of benefits like:
– Lower or no out-of-pocket costs
– Access to more than 2,200 Quest clean and comfortable patient service centers across the U.S. – Access to over 3,500 tests, everything from basic screenings to cutting-edge testing options – Accurate test results from the lab trusted most by doctors and hospitals – Safe and secure access to your own test results and ability to track health trends over time – Quiggles™, a kid-friendly, pain-reducing device that is equal parts cute and effective
In Network Makes It Easy
In-network insurance coverage extends beyond your doctor, and it's easy to access these benefits. Your doctor can provide a referral to a lab or facility of your preference. To check out all the options you have for each kind of health service, visit your insurance company's website or call the number on the back of your insurance card.
Sponsored advertising content by Quest Diagnostics, which is an in-network lab testing provider for many health plans across the country, including UnitedHealthcare. With cutting-edge testing options and a proven commitment to accurate results, Quest empowers you to take action and make better health decisions for your family. To choose Quest, simply ask your doctor to send your lab work to Quest, or schedule an appointment at a Quest patient service center near you.
This article was originally published on