You Can Now Watch Africa's Hit Science Show For Kids In The U.S.
by Erica Gerald Mason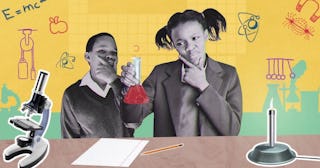 Peripheral Vision International/YouTube
Watch the Pan-African science TV show for kids and try not to smile — we dare you
The world needs more scientists. Or people who appreciate the scientific process. With some people questioning the need for masks, denying climate change, and some people wondering if evolution is real, the scientific method has taken a beating lately — all of which makes creating science programs for kiddos more important than ever.
This is where N*Gen comes in. Pronounced "engine," the program is a hub where everything from science, technology, engineering, and math is portioned out into 15-minute segments. The show, aimed at children ages 8 through 12, examines science through an African perspective.
NPR reports the program presents subjects such as astronomy, chemistry, computer programming, robotics, video games, foreign language education and more into bite-sized bits kids will want to watch. The show's emphasis is on presenting science with an African perspective, and NPR's feature says broadcasters are impressed at the show, which is unlike any other science show that's appeared on African TV.
Jeff Schon, co-founder of Akili Kids!, a children's learning channel based in Kenya, told the outlet his network had been showing programs such as U.S. show SciGirls, which spotlights STEM.
"[It is] a lovely program, but it's certainly not shot here," he says. "It is in some cases dealing with subjects that are not going to resonate here." The SciGirls show, he says, filmed a module on shoes designed for walking safely on Minnesota's icy winter streets — not something a child in Kenya can relate to.
"I enjoyed a recent episode we broadcast, titled 'Bones,' that had a segment on Turkana Boy whose bones are housed at the Kenya National Museum," he says.
N*Gen, developed by six educators at Clarke Junior School in Kampala, is financed by and produced by East African nonprofit Peripheral Vision International. "Choosing a science focus for N*Gen is an absolute necessity because not only is it a neglected area, it is considered one of the hard subjects," says Joy Kiano, PhD.
Kiano explains it was essential to show African women scientists. Some male teachers appear, but guest experts are mainly female. Teachers and producers in Uganda, Nigeria and Kenya – which are also filming locations – brainstorm episodes.
NPR reports Christine Kathurima, principal of Nova Pioneer Schools, describes N*Gen as "absolutely ground-breaking in the quality and the African female presenters."
"I absolutely love seeing women presenters," Kathurima says. "When I watched the show, I realized that many of the educational videos that we use do not intentionally seek female hosts."
One of the male-led segments is "Shake It Out with Tadhi," a movement-based lesson aimed at getting kiddos off the couch.
In Kenya, N*Gen has been broadcast twice on weekends since October 2020, where each episode is watched on average by 658,000 children under 14 and 642,000 adults.
The cast and producers are working on a season two of N*Gen, and it will focus on climate change-related issues. The plan is to keep filming even if the pandemic keeps kids out of the classroom.
The show recently debuted in North America and the Caribbean on The Africa Channel, where it airs every Saturday and Sunday at 6 a.m. and 9 a.m. ET.