After Pulling Her Over, Police Officer Gives Foster Mom Gifts Instead Of A Ticket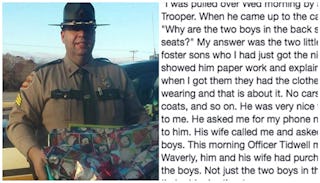 A police officer from Tennessee gave a foster mom and her children an unexpected holiday
The holidays can be a stressful time for a lot of parents. Between the never-ending holiday programs at school, that damn Elf that needs to be moved every night, and the nonstop pressure to make the season magical AF, our holiday spirit can start to wane pretty quickly. But a story taking the Internet by storm is a good reminder that the holidays are about kindness and generosity, not whether we have the picture-perfect holiday card or score the last Hatchimal on the planet.
According to a Facebook post shared by the Tennessee Highway Patrol, a woman was pulled over by a Tennessee State Trooper, who asked why the two boys in the back seat weren't in car seats. She explained that they were her two foster sons, who had just come to her the night before with little more than the clothes they were wearing. No coats, no toys, no car seats. Nothing.
Officer Tidwell was "very nice" to her and the kids, she wrote in a Facebook post on her personal page, which was then shared on the Tennessee Highway Patrol's page. "He asked me for my phone number. I gave it to him."
Later, the officer's wife called her and asked about the boys. As it turns out, Officer Tidwell and his wife had purchased gifts for them – not just her new foster sons, but their older brother as well.
"I cannot thank him enough for the kindness he has shown these three boys," the mom wrote. "I never asked him for anything. He and his wife acted out of the kindness of their hearts."
While the world seems to be full of hateful stories right now, this story is a reminder that there is still a whole lot of good in the world. There are generous and thoughtful people, who are willing to help strangers simply because it's the kind thing to do. There are people like the woman who used 10,000 Christmas lights to spread a message of love in response to homophobic neighbor and the Muslim restaurant who has promised to feed those in need on Christmas Day. There are people like Officer Tidwell and his wife.
"You hear way too much negative stuff [nowadays] so here is some good news for you all."
This article was originally published on