The AIDS Memorial Is The Instagram Account You Need To Be Following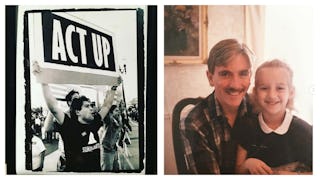 @theaidsmemorial: @caradoidge, @silverlakedogs / Instagram
On December 1st — which was World AIDS Day — I was scrolling through Instagram and noticed Jim Parsons from The Big Bang Theory had posted about the Instagram account The AIDS Memorial, which shares stories and photos of people who have died from AIDS. I immediately followed the account, and spent any free time for the rest of the weekend reading as many tributes as I could stand before I began crying.
Because it's become a disease that can be managed with medication to the point of non-detection, the severity of AIDS seems to have been forgotten. But this account puts thousands of very real faces on a disease that isn't going anywhere anytime soon. And that's why you should be following it too.
Since I was born in the mid '80s, AIDS has literally been around my entire life. It's almost impossible to talk about the decade without talking about the way the disease took hold of entire generation of men, women, and children.
Many of the tributes on The AIDS Memorial page feature gay men who died in the late '80s and early '90s. But there are also tributes to women and occasionally children who died as well. While there are some similarities between the stories of some men featured, you are forced to see them as individuals. They all belonged to someone; they were husbands, wives, lovers, friends, fathers, mothers. The people who took the time to write a memorial to them are the ones left behind, holding onto nothing but maybe a few photos and a mind full of memories.
If someone died in 1986 (the year I was born,) that means they've been gone for 32 years now. Sometimes that doesn't seem like a long time at all, but if you've been missing someone you love for 32 years, it can feel like an eternity. Many of those memorialized didn't even get to live to be 32 years old — they've been gone longer than they were here. As a person who feels like they didn't hit the prime of their life until they turned 30, it breaks my heart to know that so many of these people never got to reach that point.
As of right now, The AIDS Memorial Instagram account has over 4,800 posts and over 75,000 followers. The account has existed since April of 2016 and is updated daily. It is run by a Scottish man named Stuart who generally remains in the background to give the tributes the attention they deserve.
"It's still taboo to talk about AIDS, I thought maybe I could help change that," he said in an interview with The Guardian in November 2018. He notes that Instagram has a far reach and that lends itself for creating a virtual history book that might not otherwise exist.
The AIDS Memorial account isn't the only tribute to those lost to the disease, but the fact that it exists in the social media space means it's targeting a whole new group of people who may not have the opportunity to share their stories or to learn just how devastating this disease really is.
"I want [people] to see the faces behind the statistics," Stuart told Scary Mommy. "To acknowledge those who perished, who were disowned, and now seemingly forgotten to be remembered. They were here, they existed, and they mattered and still do matter."
The toll the AIDS epidemic has taken was brought to light again with the death of former President George H. W. Bush, who was by no means an ally to those who suffered from AIDS, neither as Vice President to Reagan nor when he became President.
Even now, when we talk about those who have died, we talk about the famous people who died. People like actor Rock Hudson or actor Robert Reed (the dad from The Brady Bunch) or one of my personal favorites, Freddie Mercury. I had just gone to see Bohemian Rhapsody only days before learning about this page — the 27th anniversary of his death from AIDS had been the week before.
While The AIDS Memorial page does honor the more recognizable faces who died, if tributes are submitted, it provides a space to honor the "regular" people who also lost their lives. It reminds us that their lives mattered just as much, and there are still people who remember them.
"Since learning the truth, I've felt it's my responsibility to tell his story to remove the stigma and shame my family felt for so long," reads a post by Cara Doidge Kilgore paying tribute to her father. She didn't learn he was gay and died of AIDS until 16 years after he died.
According to the most recent United Nations statistics on HIV and AIDS, globally approximately 77 million people have become infected with HIV since the start of the epidemic. Approximately 35 million people have died since the start of the epidemic. In 2017, 940,000 people died from AIDS-related illnesses.
As we can see from the numbers, AIDS isn't going anywhere anytime soon. It claims lives daily, leaving loved ones behind to pick up the pieces and forever mourn their loss. The AIDS Memorial Instagram page isn't a sad account of those who died, but rather a beautiful account of lives lived.
If you don't have Instagram, you can also follow The AIDS Memorial on Facebook and Twitter.
This article was originally published on