'Air Ambulances' Cost A Fortune—If You Don't Have The Right Coverage
by Nikkya Hargrove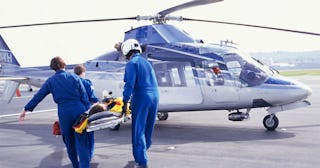 Keith Brofsky/Getty
The only time I ever took a ride in an ambulance was the time my five-year-old daughter broke her arm last year while on the playground at school. There, in the emergency room of our local hospital, ER doctors and nurses could not determine if she needed surgery. The x-rays weren't particularly clear and warranted a hospital-mandated ambulance ride from the hospital without a pediatric orthopedic surgeon to a more-specialized children's hospital 30 minutes from our home. I could not imagine if her broken arm was something much worse and she had needed to be airlifted to another hospital — but it happens, and more frequently than you might expect. With the rise of COVID-19 extending the capacity of doctors, nurses, and beds around the country, patients are being airlifted to other hospitals.
Many hospitals have run out of space to hold the influx of patients, some patients are in beds lining hallways, and others are just sitting and waiting. The choice many hospitals are making is a costly one for patients – to send patients to other hospitals by "air ambulance". Between 2012-2016, the average cost of being airlifted by an air ambulance is about $40,000. In 2020, at the height of the pandemic, the average cost was over $50,000 — and not a benefit all insurance companies offer. Requiring a medical airlift, whether non-emergent or for an emergency, is something we don't often consider until we need it.
The purpose of airlifting someone to another hospital is to increase their survival rate. In most cases it's an emergency, and the number one outcome doctors are looking for when they make that call is to help the patient live. For patients and family members dealing with the unexpected rollercoaster ride of a COVID-19 diagnosis, being transported by air ambulance to another hospital just to secure a bed can ultimately provide some peace of mind. But when the bill arrives long after the hospital stay, both worry and fear set in about how the bill will get paid, turning an emotional rollercoaster into a financial one. As of last week, within seven days, over 41,000 new cases of COVID-19 were reported on September 15th. In the same period, over 11,000 people were hospitalized nationally, battling COVID-19. When hospitals run out of room to hold patients, sometimes transportation to another facility is the only choice — and sometimes that means going via airlift.
If a hospital cannot serve their patients in the way they need to be served, it's their duty to help to find another option which can mean sending patients elsewhere, as they did with my daughter. I am grateful that for her it was not a life or death situation — but if it were, I would want her flown to the place that could save her life, no matter the price tag.
We know that going through one's health insurance can be costly, but there are alternatives to insurance. For an air ambulance alternative some are looking to organizations like LifeFlight and Flying Angels to help ease the financial and emotional burden of being airlifted to another hospital.
Founded in 1978, LifeFlight's is a non-profit working to help provide air medical transport to patients in need. They provide medical air transport services for patients in the Pacific Northwest, Intermountain West, and Alaska. Families can pay a small membership fee which will cover all dependents living in the household. While membership is limited to the aforementioned areas, for $69 a year, you and your family can be covered should you need to be airlifted. If you live in Idaho, Oregon, Washington, and Montana, $69 is a small price to pay for such peace of mind. It's extra security. If we can pay the extra $40 or so bucks for insurance on lost luggage, we can pay for this. And even better than the low cost of the membership is that you won't receive a bill in the mail later on; no other out-of-pocket expenses will incur after using the service. For those who live in Oregon, there is a combination membership that also offers ground transport service.
Flying Angels is another medical air alternative to the kind a costly air ambulance provides. Flying Angels, like LifeFlight, is safe medical travel for patients and peace of mind for families. Under the care of a flight registered nurse, patients in need of non-emergency medical transport can connect with Flying Angels to see if it would be the right fit for the needs of their loved one.
Don't wait for a hefty $40,000 or $50,000 bill to arrive in the mail. Now is a great time to check into what, if anything, is covered by your insurance company should you or a family member ever need an air ambulance. Find out the costs, both financial and emotional, associated with scheduling emergency medical travel. You may find that you don't have any or that it costs more than a year's worth of rent if you did, so looking into alternatives now may save you a headache later. Hopefully it's nothing you'll ever need to use — but if you do, you'll be glad you planned ahead.
This article was originally published on