Air Strikes Destroy Aleppo's Last Children's Hospital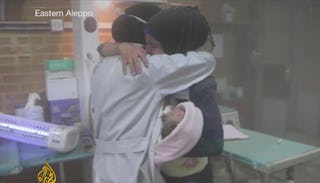 Image via The Independent.
Premature babies removed from incubators at Aleppo children's hospital as air strikes hit
Medical professionals are struggling to keep premature babies alive after air strikes destroyed children's hospitals in Aleppo. Disturbing video shows the aftermath of the attacks as nurses and doctors rushed to remove the babies from their incubators and leave the shattered scene.
The United States and the United Nations have condemned the most recent attacks carried out by the Syrian government and Russia, The Independent reported. The children's hospital was ruined on Thursday. Five hospitals in or around Aleppo have been attacked and destroyed since the attacks started on Tuesday. The World Health Organization said all hospitals in the area are now unusable and closed. The startling video below shows doctors and nurses detaching tubing from the incubators and removing the tiny babies in a smoke-filled ward.
Medical professionals have moved their patients to a civilian house and are doing everything they can to keep them alive. The UK-based Syrian Observatory for Human Rights reported that the death toll has reached 92 people since the attacks started on Tuesday.
On Saturday at least 27 people were killed when air strikes, barrel bombs, and artillery rounds hit eastern Aleppo. The death toll is expected to rise, experts said. "People went to sleep to the sound of bombardment and awoke to the sound of bombardment," explained Rami Abdel Rahman, head of the Observatory. "There's barely a neighborhood that has been spared. People don't leave their homes."
It's a terrifying existence for anyone living in Aleppo, which has lost numerous schools and medical facilities since the civil war started five years ago. Last month, at least 22 kids and six teachers were killed in what UNICEF said is one of the deadliest attacks on schools in Aleppo. The lack of hospitals has meant a high number of injured people have died hours after they were hurt, according to Yasser Al-rahil, a journalist and member of the Revolutionary Forces of Syria media office. "We have counted more than 2,000 artillery shells and nearly 250 air strikes since midnight on Friday, which have left 28 dead and 150 wounded," Al-rahil reported. "All hospitals in the liberated areas are out of service as a result of systematic shelling over the past two days, so the wounded are being treated anywhere available away from the bombing."
The Independent reports "the charity Doctors Without Borders said in a message there had been more than 30 hits on hospitals in eastern Aleppo since early July and that medical supplies had been 'depleted' with 'no possibility of sending more supplies in.'"
US National Security Advisor Susan Rice warned Syria and Russia that they are responsible for what happens now and in the future for their "heinous" attacks. "The United States condemns in the strongest terms these horrific attacks against medical infrastructure and humanitarian aid workers. There is no excuse for these heinous actions," Rice said in a statement. "The Syrian regime and its allies, Russia in particular, bears responsibility for the immediate and long term consequences these actions have caused in Syria and beyond."
This article was originally published on