Airbnb pledges to provide housing for those affected by President Trump's executive order
The great thing about people is how, even when a small portion of them does something hateful and dispiriting, a great many rise up against such behavior. We saw many examples of the best of humanity yesterday, and the promise made by Airbnb is one of them.
An article from Mashable has more information on the offer, which began with Brian Chersky's tweet.
The alternative hotel service's co-founder continued tweeting, expounding on Airbnb's philosophy in the face of the ban. "Not allowing countries or refugees into America is not right, and we must stand with those who are affected," and, "Open doors brings all of US together. Closing doors further divides US. Let's all find ways to connect people, not separate them."
These were sentiments many shared across the country, as evidenced by protests at the airports where refugees were being detained and families separated by the Trump administration's executive order. Leading the charge was the ACLU, which saw a federal judge grant its request for a national injunction against the order that would send Muslim refugees back out of America.
Chesky reiterated his company's offer on Facebook.
"We have 3M homes, so we can definitely find people a place to stay." Leave it to the CEO of an alternative hotel chain to sound more presidential than the actual president.
Trump's Executive Order, which prevents people from seven Muslim countries – none of which have previously been home to anyone who's been responsible for terrorism in the U.S., and none of which have a history and/or future of doing business with the Trump Organization – from entering the country, is entitled "Protecting the Nation From Foreign Terrorist Entry Into the United States."
Already on Saturday it was affecting hundreds of people who were arriving at U.S. airports, as security detained passengers at the gates while protesters, and lawyers, and even some elected officials, gathered outside to lend whatever aid and assistance they could.
Airbnb isn't the only company speaking out against the EO.
Mashable wrote about responses from Apple, Netflix, Uber and more. And thank goodness for them, and the people whose demonstrations and protests rang out at airports across the country, making it clear that turning away people in need is not the American way.
Unfortunately, many in the Republican-dominated Congress seem reluctant to fight back against this and other controversial actions taken in the Trump administration's first tumultuous week, leaving it to everyday citizens and organizations like the ACLU to mobilize.
The ACLU's Executive Director, Anthony D. Romero, summed it up with his reaction to the stay:
"Clearly the judge understood the possibility for irreparable harm to hundreds of immigrants and lawful visitors to this country. Our courts today worked as they should as bulwarks against government abuse or unconstitutional policies and orders. On week one, Donald Trump suffered his first loss in court."
Here's hoping it's not his last.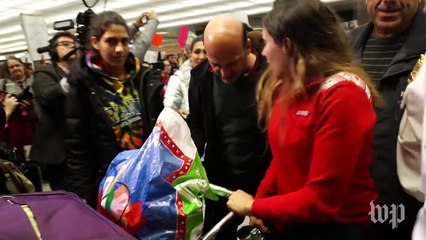 Emotional protests at Dulles as immigrant… by thewashingtonpost