Airbnb's Offering Free Places To Stay For Those Displaced By Hurricane Florence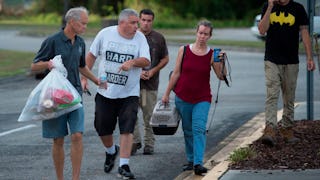 Image via ANDREW CABALLERO-REYNOLDS/AFP/Getty Images
Airbnb is helping with the burden faced by Hurricane Florence evacuees by offering them free shelter
Can you imagine living in the path of a potentially deadly hurricane, and being ordered to evacuate your home and your city? That's the terrifying reality for around 1.5 million people in the Carolinas and Virginia. But thanks to Airbnb, they won't be without a place to go.
As Hurricane Florence moves toward landfall, Airbnb has made its accommodations free for many in the storm's path, including evacuees and disaster relief workers. Through its Open Homes program, the home sharing site is offering free accommodations in Charlotte and Greensboro, North Carolina; Columbia, Greenville and Spartanburg, South Carolina; Atlanta and Augusta, Georgia; and Charlottesville, Virginia. The Open Homes program was created in 2012 in response to Hurricane Sandy, and according to its website, has "offered temporary housing to over 11,000 people displaced by natural disasters, conflict, or illness."
The free listings will be available until Oct. 1, and taxes and local fees will also be waived. For the Open Homes program, existing Airbnb hosts are asked to offer their homes and spare rooms for free, and in return, Airbnb provides screening and background checks, reimbursement for property damage, 24-7 phone support and other resources. Those who need a place to stay just need to sign up for an Airbnb account to take advantage of the program.
Airbnb partners with a variety of charitable organizations, like Mercy Corps and the International Rescue Committee, to offer continued support to displaced people who use the Open Homes program. And in light of the more than 1,000 flights that have already been canceled ahead of Florence, there are going to be a lot of stranded people who might be able to use a little help.
According to People magazine, some 350 homes in the affected areas had already been offered up by their owners as of Wednesday afternoon, with Florence scheduled to make landfall Thursday evening.
"We encourage hosts in these areas to help those in need by listing their available rooms or homes on the platform for free," Kim Rubey, Airbnb's Global Head of Social Impact and Philanthropy, told the site. "Our thoughts continue to be with everyone in the path of the storm, and we thank the dedicated government and emergency response personnel who are keeping our communities safe."