Airlines Are Treating Families Like Crap, and Charging Us More Too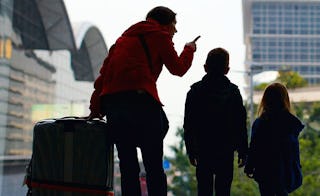 While the business traveler probably isn't noticing any of these things, families are. What's getting worse than the fees and the squishy seats and the inconvenience is the attitude from airlines that we should be grateful for every little crumb we're given. And should we need something extra, a little help along the way, too bad.
You may have seen headlines for this story in your social media feed over the past week or so, and maybe you didn't click right away because you didn't connect with it personally. To me, it was just a headline: "Family Kicked Off Flight After Daughter With Autism Deemed 'Disruptive.'" Then there were more headlines for the same story, all about the mom ("Mom of autistic teen who got kicked off airplane says United overreacted").
A few more headlines appeared, and I finally clicked. And then I saw how crappy the flight attendants were to this teenager, whose "special needs" were actually pretty simple, and whose family's biggest sin was asking for a little help and an ounce of compassion. They got the help, didn't get the compassion, and then got booted off the flight.
The story, in a nutshell: Dr. Donna Beegle was traveling with her husband and her 15-year-old autistic daughter, Juliette, who got hungry. She turned down the food her parents offered because she wanted a hot meal. Most of my information about kids on the autism spectrum comes from watching Parenthood, admittedly, but I get it: These kids get something stuck in their heads, and you can't really talk them out of it. Dr. Beegle asked the crew to warm up the chicken sandwich they sold her, but they wouldn't do it. She asked for a meal from first class and was again told no. She offered to pay for it. No. She asked for something salty. No. She got frustrated and suggested that maybe they'd be more willing to help after her daughter had a meltdown and started scratching in frustration. They grudgingly gave her a hot meal.
And then everything calmed down. Juliette ate and watched a movie. Then the pilot made an announcement that the flight was getting diverted to Salt Lake City due to a passenger who was having issues. Dr. Beegle had no idea what the issue was, but once they landed, she was surprised to find out it was her own family. They were escorted off the plane even though Juliette was calm by that point, and the other passengers agreed there wasn't a problem.
That's the short version! The long one can be read here, in Dr. Beegle's Facebook post about the incident.
Dr. Beegle has filed complaints with United Airlines and the Federal Aviation Administration. She has plans to sue United, but she's not looking for money—she wants to force them to give their staff some training. Looking at the story, it doesn't seem the staff needs to be educated about autism, or about every single condition that a passenger might have, but they need to understand that these conditions exist and not be complete jerks about helping out. This wasn't a pushy mother trying to get special treatment for her over-entitled child. This was someone who wanted the flight to be as smooth as possible for her daughter, herself, and the other passengers, and was treated shabbily, either because the staff didn't like her attitude or they didn't understand autism and for some reason thought that Juliette was a threat.
Flight crews are losing their compassion for families in an age when families can't afford to pay for more than the bare minimum because everything else costs extra. Some examples:
A dad traveling from Raleigh, N.C., to Montgomery, Ala., had to cough up an extra $88 to get a seat next to his 4-year-old daughter, and when he got on board, he saw that there were multiple empty seats on the plane.
A flight attendant had a woman and her baby kicked off a flight because the mom had a snippy reply to being asked to move her baby from a baby carrier to her lap, which she did.
Maybe it's time for the airlines to be grateful for our patronage again, and remember that we do have a choice—as they like to say when you're leaving the plane—and families who travel are dishing out a lot of money. Families are customers too, you know.
This article was originally published on