Here Are All The Airlines Joining American And Refusing To Transport Separated Immigrant Children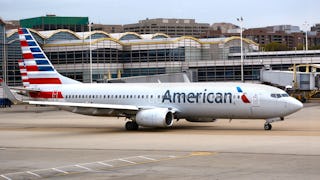 Image via Robert Alexander/Getty Images
United, American, and several other airlines won't transport separated immigrant children
Major airlines are banding together and taking a stand for immigrant families. United, American, Frontier, and Southwest Airlines have all announced that they will not transport immigrant children who have been separated from their parents thanks to Donald Trump's "zero-tolerance" policy.
On Wednesday, Trump signed an executive order that put a stop to his "zero tolerance" immigration policy, which separated parents from their children at the U.S./Mexico border. Shortly before he signed the order, American Airlines announced that they had requested the federal government not use their airlines to transport immigrant children who had been separated from their families.
"We bring families together, not apart," the airline said in a statement. "…We have no desire to be associated with separating families, or worse, to profit from it. We have every expectation the government will comply with our request and we thank them for doing so."
Other major airlines quickly followed suit. United's CEO Oscar Munoz released a statement saying that he has "serious concerns" about the zero tolerance policy. "Our company's mission is to connect people and unite the world," he wrote. "This policy and its impact on thousands of children is in deep conflict with that mission and we want no part of it."
Frontier noted that they will not knowingly transport children away from their families.
Southwest added that they "do not wish to have involvement in the process of separating children from their parents…therefore, we appeal to anyone making those types of travel decisions not to utilize Southwest Airlines."
Tyler Q. Houlton, a press secretary for the Department of Homeland Security, slammed the airlines' decision and said that he was disappointed that they "no longer want to partner with the brave men and women of D.H.S. to protect the traveling public, combat human trafficking, and to swiftly reunite unaccompanied illegal immigrant children with their families."
"Despite being provided facts on this issue, these airlines clearly do not understand our immigration laws and the longstanding devastating loopholes that have caused the crisis at our southern border," he added.
But…are they actually trying to reunite immigrant children with their families? It doesn't sound like that's the case at all. Also, literally the only devastating thing happening right now is that there are children who have been separated from their parents.
Meanwhile, a chunk of the Twitterverse thanked the airlines for taking a stand against the Trump administration's cruelty.
All the applause to these airlines for taking a stand for what's right. You're all officially forgiven for every single baggage delay that's ever happened.
This article was originally published on