Travelers Share Photos Of Long Lines, Close Quarters In Airports Across The U.S.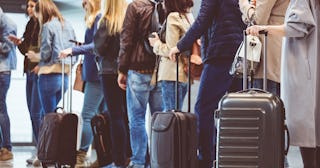 izusek/Getty Images
Medical screenings are leaving people waiting in airports for hours
Airline passengers are returning to the U.S. in droves after President Donald Trump announced additional travel restrictions from 28 countries in Europe, including the United Kingdom and Ireland. As a result of this and required medical screenings at airports before passengers can leave, people waited in line for hours in close quarters, causing additional stress and confusion amid the coronavirus pandemic.
As people share pictures of airports around the country, politicians are blasting the administration for its incompetence, asking them to do more. Illinois Governor J.B. Pritzker took to Twitter Saturday complaining about new restrictions and what it's doing to Chicago's biggest airport, O'Hare International Airport.
"The crowds [and] lines [at] O'Hare are unacceptable [and] need to be addressed immediately," Pritzker wrote, adding in a separate tweet, "The federal government needs to get its s**t together. NOW."
The closeness of people in line and overcrowding, in general, are a major concern as U.S. health officials urge people to engage in "social distancing" to slow the spread of infection. Mayor Lightfoot echoed Pritzker's sentiments, saying in part, "No one has time for your incompetence."
Travelers shared pictures from airports such as Dallas/Fort Worth International Airport in Texas and John F. Kennedy International Airport in New York, among others, showing massive lines and overcrowding.
"To the frustrated people trying to get home, I have spoken with the mayor and our Senators and we are working together to get the federal government to act to solve this. We will do everything within our power to get relief," the Chicago governor tweeted.
The Trump administration said it is "aware of the lines" and frustrated travelers, with Acting Secretary of the Department of Homeland Security Chad Wolf asking for patience, saying additional screening capacity is being added.
"Right now, we are working to add additional screening capacity and working with the airlines to expedite the process," Wolf tweeted. "I understand this is very stressful. In these unprecedented times, we ask for your patience."
Acting commissioner Mark Morgan echoed Wolf's statement, saying in part, "We are aware of the reports of increased wait times at some airports across the nation. CBP along with medical personnel are working diligently to address the longer than usual delays. Nothing is more important than the safety, health and security of our citizens."
O'Hare is one of 13 airports authorized by the Department of Homeland Security to screen passengers returning from restricted countries.
Dr. Anthony Fauci, director of the National Institute of Allergy and Infectious Disease, said the U.S. hasn't reached its peak yet of the coronavirus, as the number of cases nears 3,000. "We have not yet reached our peak," Fauci said at a White House briefing Saturday. As of Sunday morning, there were at least 2,885 coronavirus cases in 49 states, Puerto Rico, the U.S. Virgin Islands, and Washington, D.C. At least 60 people have died.