8-Year-Old Gets The 'Hamilton'-Themed Birthday Party Of Our Dreams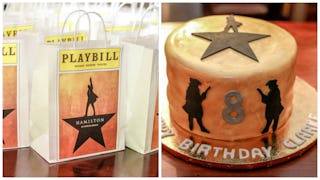 If only birthday parties could win Tony awards
Themed birthday parties are all the rage these days. Mickey Mouse Clubhouse cupcakes, PJ Masks capes and, well, masks, The Avengers goody bags – you name it and it's been done (at least, that's what Pinterest tells us anyway). Basically, if you don't give a birthday party theme 100% effort, you might have to turn in your Parent Card at this point. And let's be honest, while these parties are a ton of work they can be a ton of fun too. No one knows this better than Aisha Greene and her hit Broadway musical-loving daughter, Clarke.
When Clarke's initial request to attend Hamilton with all of her friends turned out to be impossible (gotta admire the kid for trying though), her mom did the next best thing: a Hamilton-themed party right in the heart of New York City. And it was awesome.
Aisha (aka my dream mom) spent a month searching for the perfect party decor, as well as creating her own. She told The Huffington Post that the kids completed a Hamilton scavenger hunt, dressed up in traditional colonial garb, and even sang Hamilton karaoke. Basically no one was throwing away their shot at one hell of a birthday party (see what I did there?).
Just look at the attention to detail here in these photos, courtesy of Clarke's dad Hayden Greene of Greene Light Photography. There are playbills, color-schemed balloons, a cake and cupcakes, and party favor bags that contained lyrics from the show and mini U.S. Constitutions. MINI CONSTITUTIONS, you guys. The kids in attendance (aka the luckiest children in birthday party existence) also took home paper dolls of the main characters, a notepad, and an American flag pen so they could mimic Alexander Hamilton in the show and write like they were "running out of time."
Beyond the infectious and relatable music, the story behind Hamilton resonates with Clarke because it draws a connection to her family. "She's invested in the story of an immigrant from the Caribbean," Aisha told The Huffington Post. "Her dad and grandmother are both from the Caribbean, so immediately she found a connection to the storyline." (For those wondering, yes, Alexander Hamilton was a Caribbean immigrant.) Clarke is also a true New Yorker and loves that it's a story about "the greatest city in the world," her mom said.
It's so uplifting to see musical theater reach a group of 8-year-olds, and it's a true testament to the power of theater and the arts in our youth despite constant government interference with budget cuts to artistic programs and outlets nationwide. I was 10 years old when I saw my first musical and it absolutely influenced my creativity by giving me an outlet for that kind of appreciation. It was a defining moment that I believe completely changed my life as a kid. I wish I could give Clarke (and her mom and dad) a high-five.
"Would it have been easier to do a 'My Little Pony' or princess party? Of course," Aisha told The Huffington Post. "But this challenge? Totally worth it because my daughter is 'Satisfied.'"
To top it all off, the party was was so fabulous it got a shout-out from Mr. Hamilton himself, Lin-Manuel Miranda:
From "one young, scrappy, and hungry" Alexander Hamilton fan to another.
This article was originally published on