Alabama Abortion Ban Blocked Making Procedure Legal In All 50 States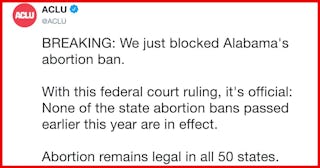 ACLU/Twitter
Alabama's near-total ban on abortion was set to go into effect on November 15
Alabama's near-total ban on abortion has just been blocked by a federal judge which halts the "Human Life Protection Act" from taking effect. The legislation, signed by Alabama Governor Kay Ivey in May, outlawed abortion in the state. If any doctor was found to perform an abortion at any point during a woman's pregnancy, they would be found criminally liable, punishable by up to 99 years in prison.
Federal Judge Myron Thompson issued a preliminary injunction against the ban on Tuesday morning, effectively halting the law from taking effect while the lawsuit challenging the ban continues, CBS News reported.
"A near-total ban imposes substantial costs on women, including those who are unable to obtain an abortion and those who 'desperately seek to exercise their ability to decide whether to have a child' and thus 'would take unsafe measures to end their pregnancies,'" Thompson wrote, quoting from another Alabama-based abortion lawsuit from 2014. "The court is persuaded that the plaintiffs are likely to succeed in showing that the Act violates an individual's constitutional right to obtain a pre-viability abortion, and thus that it violates her constitutional rights."
Alabama isn't the first state to temporarily block bans from taking place. Earlier this month, a federal judge from Georgia blocked an order prohibiting abortions as early as six weeks into pregnancy when a fetal heartbeat can be detected (but before many women even know they are pregnant).
"This is not only a victory for the people of Alabama — it's a victory for the entire nation," said Staci Fox, president and CEO of Planned Parenthood Southeast in a statement. "We said it from the start: this ban is blatantly unconstitutional and we will fight it every step of the way."
Republican Rep. Terri Collins, who championed the abortion ban in the Alabama legislature, responded to the ruling, saying in part, "Today's ruling is both expected and welcomed. Our law was designed to overturn Roe v. Wade at the Supreme Court level, and today's ruling is merely the first of many steps on that legal journey. I remain confident that our mission will be successful and appreciate the support of millions of citizens who support our effort to preserve unborn life."
Women in Alabama and other impacted states have been living in fear that these near-total bans on abortion will take effect and what it means for them now and in the future. "These women are being scared to death," Dalton Johnson, owner of Alabama Women's Center for Reproductive Alternatives in Huntsville, told PBS earlier this year. "If we see ten patients in one day, at least two to three are asking: 'How much longer is it going to be legal in Alabama? What does this mean for you guys? When are you guys going to have to close? Where are the women going to go after me?'"
The block is temporary while the lawsuit brought by the American Civil Liberties Union and Planned Parenthood on behalf of the three clinics in Alabama continues to play out in court.