Teacher Relies On Donated Sick Days To Be With 1-Year-Old Daughter Fighting Cancer
by Julie Scagell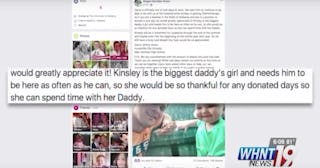 Megan Green via Facebook
Teachers around the state donated 110 days to the family
A teacher in Alabama is thankful to be able to spend time with his infant daughter who is undergoing chemotherapy for acute lymphoblastic leukemia (ALL) — and it's all because hundreds of fellow teachers donated their own sick leave to be able to give him time to spend with her while she is fighting for her life. But the fact that he has to rely on donated paid time off at all isn't heartwarming — it's a huge sign something is drastically wrong with the systems in place.
David and Megan Green's daughter, Kinsley, was diagnosed with cancer in October 2018 and has been undergoing chemo ever since. Her husband, a history teacher and football coach at Mae Jemison High School in Huntsville, quickly ran out of sick days (which on average range between five to 11 per year), so Megan posted a public plea for anyone who was able to help them out.
"David is officially out of sick days at work. We want him to continue to be able to be with us at the hospital while Kinsley is getting Chemotherapy so if you are a teacher in the State of Alabama and are in a position to donate a sick day we would greatly appreciate it," she wrote. "Kinsley is the biggest daddy's girl and needs him to be here as often as he can, so she would be so thankful for any donated days so she can spend time with her Daddy."
Their community responded, quickly donating 110 days so the family could be with Kinsey during her chemo, and the Green's were understandably overwhelmed. "Thank you for allowing us to be a family," Megan told Good Morning America. "Thank you for the little bit of normalcy these days have provided. Thank you for giving so selflessly. It honestly is a bigger blessing than I can put into words."
Their story brings up yet another example of the horrendous situation most teachers in America find themselves in — including strikes for fairer wages, having to take on multiple jobs to keep their heads above water, and lacking retirement benefits (nearly half do not have access to retirement benefits, including social security). The fact that our teachers (and many others in various jobs), the people who educate and care for our children, need other teachers to donate to be able to take time off in times like these is deplorable.
Many others agree:
https://twitter.com/jetpack/status/1121545653992218624
Kinsley has finished three rounds of chemo and is expected to go through two more in a hospital setting, then at least two more years of outpatient rounds after that. "Her treatment is really intense and she receives some of the same chemotherapy that adults get due to lack of research and funding for childhood cancer," Megan said. "[S]he has had several serious complications while receiving treatment, which requires both David and I to be here to care for her."
For her part, Megan had to quit her job, saying, "I needed to be with her day in and day out and said that without the sick days, David wouldn't have been paid and the family would've lost their health benefits altogether."
The Greens also set up a GoFundMe account where people can donate to the family's medical expenses, gas expenses, and living expenses. Any money raised in addition to what they need will be donated to children's cancer research.
"Coach Green is a dedicated educator and coach," Mae Jemison High School's principal Rachael McDaniel said. "Even though he has been balancing the needs of his family, he has not neglected his duties at work at all. He still comes to work with a positive attitude, encouraging students and colleagues. His is optimism and attitude are felt by all around him."