MAC's 'Aladdin' Makeup Collection Is A Whole New World
by Thea Glassman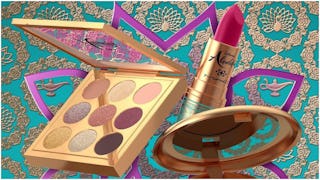 Image via MAC
This shimmery Aladdin makeup collection from MAC is beyond magical
Have you been curled up in a hangover of happiness since the trailer release of the upcoming live-action Aladdin film? Need something else to keep your Disney-loving heart very, very happy? MAC released a first look at their Aladdin-themed makeup line and it's ridiculously pretty, shimmery, and magical.
Brace yourself, because you're probably going to want to get on your Magic Carpet and sing lots of songs into the wind after seeing this collection. It comes complete with a lipstick, bronzer, eyeshadow palette, and packaging that'll have you feeling Jasmine-levels of glamor. We're 100 percent confident she would approve.
Let's start with the bronzer. It comes in a pretty gold compact and there's a magical lamp engraved inside. If you're a cranky morning person, I guarantee you'll be in slightly better spirits while bronzing your face and thinking about the Genie. Also, you can wish for more hours of sleep.
Up your Disney glamour tenfold with this ultra hot pink lipstick. It comes in a pretty gold tube with the same gorgeous turquoise embellishments as the bronzer and will turn you into the Princess of Agrabah you were born to be.
If you want to complete your Jasmine transformation, snag this Aladdin-themed eyeshadow palette. It's packed with shimmery, sparkly jewel-toned colors that will add a touch of Disney magic to your makeup routine. Abu, where you at?
The whole collection will be available for sale on May 16 – just before the Aladdin live-action release on May 24 – which means we unfortunately have quite a bit of time to kill before we can look Jasmine-pretty and see what is looking to be an amazing movie.
If you're feeling extra antsy and want your glamorous Disney fix NOW, head over to ColourPop Cosmetics where they've got a ton of princess-themed goodies. Like, this Belle lipstick. It's creamy, made with hydrating butters, and will make you want to sing "Tale As Old As Time" over and over again while cruising around the ballroom.
You can also snag this Snow White collection, which features eyeshadow, a creamy deep red lipstick, lip gloss, and exactly zero poisonous apples.
Here's to living your most magical Disney life. Countdown to May starts in 3…2…1…
This article was originally published on