Authorities Rescued Him From A Snow Drift In A Mountain Pass — And Had No Idea He'd Just Killed Two Women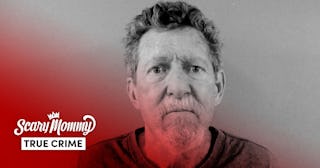 Colorado Bureau of Investigation
Alan Lee Phillips didn't know it, but he was being watched. At 70 years old, everywhere he went in his Colorado town, eyes were on him. Trailing him as he went about his day. On February 20 of this year, these eyes watched Phillips pick up food at a Sonic drive-thru. They watched as he went inside the Dumont Post Office. While inside, Phillips threw away a brown bag. After Phillips left, the people watching him pulled the brown bag out of the trash.
Four days later, Alan Lee Phillips was arrested and taken to Park County Jail. The 70-year-old's DNA had been taken from that bag he threw away in the post office and tested in the DNA Laboratory at CBI-Denver. That DNA matched DNA collected from a glove found at a crime scene of a brutal murder of two young women in January of 1982. The murders had confounded authorities for nearly four decades, but now Phillips would be charged with First Degree Homicide, First Degree Kidnapping, and First Degree Assault.
The Horrific Murders Of Annette Kay Schnee And Bobbi Jo Oberholtzer
Annette Kay Schnee and Bobbi Jo Oberholtzer didn't know each other, but they went missing from the 11,500 fr. Hoosier Pass on the same freezing, snow-covered night in January of 1982. 21-year-old Schnee worked two jobs — one at the Breckenridge Holiday Inn and another at a local tavern. She was last seen on January 6 between shifts at a Breckenridge pharmacy. She had planned to hitchhike home to change clothes for her night shift at her tavern job. In those days, it was common to hitchhike — people thought nothing of it and it was generally considered a safe way for people to get where they needed to go. But Schnee was never seen alive again after the sighting at the pharmacy.
Barbara "Bobbi" Oberholtzer, 29, also worked in Breckenridge, at an office building. On January 6, she had a few drinks with some friends after work. She too intended to hitchhike home to Alma, where she and her husband lived. She too was never seen alive again.
Oberholtzer's body was found first, about 20 feet from the Highway, the afternoon of the following day. Evidence from the scene indicated that she fought for her life and tried to run. There were plastic wire ties on her wrists, as if her abductor had tried to bind her. She had been shot to death. That same day, authorities also found Oberholtzer's backpack, a bloody glove, and kleenex scattered miles from her body.
Schnee's body would not be discovered for another six months. The 21-year-old was found face down in a Sacramento Creek several miles south of where Oberholtzer's body had been found, her body preserved by the cold temperatures and water. She had also been shot, but the bullet had gone completely through her and was never found. The orange sock she was wearing answered one question from Oberholtzer's murder and connected the two murders. The orange sock's match had been found near Oberholtzer's body, and authorities had been unable to determine who it belonged to. Schnee's backpack was also found a short distance north of Oberholtzer's body.
Phillips Himself Had Been Rescued That Same Night
Here's where the story gets both weird and even more tragic. As hard as the police worked to find the killer of these two young women, they missed a critical detail that might have solved the case immediately.
Alan Lee Phillips was rescued from the Guanella Pass in the Colorado mountains on the exact same night the two women were murdered. He'd hit a snowdrift and flashed an SOS distress symbol, which was spotted by a Colorado sheriff on a commercial flight. The sheriff let the flight crew know, and they radioed to ground for help.
Dave Montoya, fire chief of Clear Creek County at the time, responded to Phillips' call. He said in a recent interview with 9News that it was "the craziest thing I ever heard of." It was well known that the Guanella Pass was not passable during winter, and Phillips had been driving without tire chains in the subzero temperatures. He also had a large bruise on the side of his face. Phillips told Montoya that he had gotten drunk at a bar and was attempting to drive home and had gotten stuck. Montoya had no idea that two women had just gone missing from the same area.
Finally, nearly four decades later, thanks to the DNA evidence, authorities have connected the dots and realized that Phillips was simply trying to distance himself from the murders he had just committed.
How They Finally Identified Alan Lee Phillips Via DNA
Charlie McCormick, an 81-year-old retired detective who has been pursuing the case for 32 years, is largely attributed with having cracked the case. Phillips' DNA was never entered into CODIS, the United States national DNA database maintained by the FBI. But McCormick was able to convince Mitch Morrissey, a former Colorado prosecutor who started his own genetic genealogy analysis company, to run the DNA samples from the crime scenes through his system, which uses millions of people's DNA to cross-reference family tree DNA with the DNA from crime suspects. This is how they were able to narrow down Phillips' identity and finally arrest him.
It's a tragedy that it took so long to find the killer of these two young women who had so much life left to live, but it's also miraculous that DNA science has progressed to a point that these cold cases can finally be solved. Schnee's mother Eileen Franklin is still alive and has been waiting all these years for some kind of closure. The 88-year-old says it's been "39 years of hell." She was starting to believe she'd never know who killed her daughter. "I thought maybe I'd be gone before I had closure to this case," she told Denver7. "So that really — I'm ready to go when it's my time now."