Alanis Morissette Announces 'Jagged Little Pill' 25th Anniversary Tour
by Julie Scagell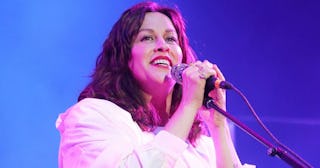 Gary Miller/Getty
Alanis Morisette is also releasing a new album, her first since 2012
Our '90s hearts just grew three sizes — Alanis Morissette just announced a new 31-date tour in commemoration of the 25th anniversary of her 1995 hit album "Jagged Little Pill." If that's not enough to make your holiday dreams come true, the singer also announced that special guest stars Garbage and Liz Phair will be coming along for the ride.
Morissette's tour will begin in Portland, Oregon in early June 2020 and will end in Nashville, Tennessee at the end of July, making it one of the most anticipated summer concert tours ever. She will also make stops in cities like Seattle, Austin, Phoenix, Dallas, Tampa, and Cincinnati to name a few and will be put on by Live Nation.
The tour will follow the Jagged Little Pill Broadway musical, which opens this week at the Broadhurst Theatre in New York. The musical is directed by Tony Award-winner Diane Paulus and features an original story by Academy Award-winning writer Diablo Cody, who wrote hits like Juno and Tully.
Morissette has been making music for decades, but it was her "Jagged Little Pill" album that gained her fans around the world. She hasn't toured since 2018 but has written new music which is being released as a part of this latest tour. She's also got a podcast, is producing, performing, and has a growing family of three kids with husband, Mario "Souleye" Treadway.
She's also been very open about her struggles with postpartum depression, often writing about her experiences on her website. She opened up about it most recently after she brought her third child home, writing that she was suffering from, "Sleep deprivation. Fogginess. Physical pain. Isolation. Anxiety. Cortisol. Recovery from childbirth." She also shared that this is the third time she's gone through this experience and that she knows there is light at the end of the darkness. "I saw how things got richer after i came through it the last two times. i have my eye on that prize again…even as i drag my ass through the molasses," Morissette wrote.
The singer also has a playful side, remaking her hit "Ironic" with James Corden by updating the lyrics for a new generation. The updated version talked about Facebook, Netflix, the airlines, and even vaping. And because Alanis is a legend, she even made fun of her original song singing, "It's singing 'Ironic,' but there are no ironies. And who would've thought it figures?"
Pre-sale tickets for the tour will be available beginning on Dec. 10 at 11 a.m. and will go on sale to the general public beginning Dec. 13. Every ticket that's purchased, fans will receive an instant download of her new song titled "Reasons I Drink" and a digital download of her new album "Such Pretty Forks in the Road," which comes out May 1, her newest album since 2011.
Click here for a full list of cities and dates to see if she's landing near you.