I May Be In My 40s, But Alanis Morissette Can Still Give Me All The Feels
by Colleen Dilthey Thomas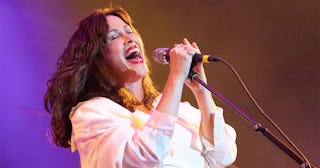 Rick Kern/WireImage/Getty
I distinctly remember going to Target and buying the Alanis Morissette album 'Jagged Little Pill.' I had some babysitting money and "You Oughta Know" was extremely popular on the radio, so I thought I would grab the CD and check it out. Little did I know that day, I had purchased a collection of music that would define my teenage years.
From the moment I brought it home, I listened to that CD incessantly. I only had a tape player in my car, so I copied it onto cassette so I could belt out the tunes in my '87 Pontiac Bonneville. For the first time in my life, I truly felt like music was speaking to me. These weren't just songs; they were anthems. Alanis knew how to express a woman's innermost thoughts in a profound way that I had never connected with before. The big words like "duplicity" were new to me and I looked it up to see what it meant. After reading the definition I understood how scorned she was and that man was just an asshole.
If you are familiar with 'Jagged Little Pill' at all, you know that those 13 tracks were all different, but powerful in their own right. If you don't know all of the words to "Ironic," were you even alive in the 1990s? That video with her four distinct personalities in that car just belting out, "It's like rain on your wedding day!" made its mark on our hearts and our souls. And I challenge you to head over to Apple Music or Spotify right now and turn it on, but don't sing along. I don't think that you can. I know that I can't.
In 2019, she announced her tour celebrating 25 years of 'Jagged Little Pill.' I was obsessed. From the second I heard that she would be coming to my city, I had to get tickets. Of course the concert was originally scheduled for 2020 and we all know how that shit show turned out. Thankfully, unlike many artists, she didn't cancel; she only postponed. And this past Saturday I was able to live out my teenage dream of seeing her live in concert.
I wasn't sure what to expect, but my heart and soul were excited. The second she hit the stage, I cried. Was it me at 42 or was it 16-year-old me that was brought to tears? Maybe a bit of both. Because although I am a mom now and in my 40s and so very far removed from my flannels and overalls, I'm really not. That 16-year-old girl is still inside of me. She still knows — and feels — every word of the entire album.
As she started the show, I looked at her face. It is older, just like mine. Her voice, it's the same. So are her smile and her passion. She lovingly gave us what we wanted and sang the entire album to thousands of people. Many of them, just like me. There were so many 30- and 40-somethings in the crowd singing along to the songs that molded their adolescence.
We were transported back to a simpler time before our society was consumed with having the entire world in our pocket. We were still counting our minutes on AOL and sending IMs with silly screen names. There were notebooks with collages on the front that we had made with clippings from magazines. Thursday night "Must See TV" was on our minds and we dreamed of living with Rachel and Monica. Alanis took us to that time. All it took was a few notes on the harmonica and we were there in Dr. Martens and our shirt from dElia*s. Life was so good that night.
She understands us today just like she understood us back then. Pictures were broadcast on a screen with images of her singing in what many may have considered her prime and of her mothering right now. We saw a pregnant belly and a family and a life that once again, looks like our own. She has changed just like we have, but when it comes down to what is truly inside of her; it's that music that defined a generation. We all need a bit of that right now.
How are we today? Collectively, Alanis included, I think that we're all doing OK. We have changed and our lives are different, but the message is still the same. Stand up for who you are, love deeply, don't try to be perfect or something you are not. Take life's ironic moments and sometimes laugh, and other times learn. And remember that you are important and how you view yourself is important.
She treated us all to an evening of nostalgia that left me with a warm feeling deep down to my soul. The show ended with a performance of "Thank U", which may be my favorite. She gave me a night to escape everything in life right now that is scary and confusing and sometimes hopeless, and let me — if just for a couple of hours — be that girl who has her whole life ahead of her and so many adventures to look forward to. So Alanis, I thank you. Not just for that night, but also for being the soundtrack to my high school years and always encouraging me and the rest of the angst-ridden women of the 1990s to learn. 25 years later, it still applies.
You grieve, you learn
You choke, you learn You laugh, you learn You choose, you learn You pray, you learn You ask, you learn You live, you learn
This article was originally published on